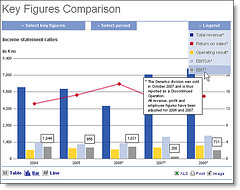 Although currently, the Business Intelligence (BI) landscape is still dominated by proprietary BI solutions, the lower price tag associated with open source BI solutions within the current economical climate is contributing to it becoming increasingly popular.
Apart from the price tag, it ultimately is still the technical as well as business requirements of an organization that will dictate the most suitable BI solution.
It really is not that much at the end of the day about whether your BI solution is open source or closed source, but whether the end-user can get the information that he wants, on a front-end tool that he is comfortable to work with and that presents the information well. Image by irwebreport.
More about proprietary vs open source BI solutions:
Open Source BI solutions allow for companies to mix and match the best-of-breed technologies considered most suitable to their organization. Closed source / proprietary models do not release source codes to the public. There are pro's and con's associated to both.
A lot of the raw technical developments are taken care of, which makes the overall solution more affordable. Open source has been considered to be very mature for some things like operating systems and also application servers, yet still lacking in others. Many of the potential beneficiaries are still concerned about the capabilities, support, security, and licensing conditions of open source solutions.
Open source systems typically do not provide all the bells and whistles that commercial BI solutions provides, but they cover what is considered the most essential, about eighty percent of what the market needs.
Vendors (both open and closed source) often neglect to inform customers that even if they use their desired tool, they will still need know-how and architecture.
ETL and data warehousing
Regardless of whether an open source BI solution is implemented or a closed one, ETL (Extract, Transform and Load) processes are still required.
Data that is captured by the operational data capturer, is stored in a table structure of a software application that is designed to take data in and store it as fast as possible. It therefore requires a different kind of design from that of a data warehouse, which is aimed to extract data as fast and effective as possible based on the information that managers or data analysts in the organization would want to see.
A senior manager may for example require to see what the average cost as well as the duration per a specified business activity is, comparing this month with a year ago. The warehouse could then be designed to take information from different source systems and combine it in a way to make this information easily available to that manager. This data needs to be cleansed by the BI solution and transferred to a new table design in the data warehouse per interval (often this happens overnight).
This process of taking data from where originally captured and transferring it to another platform while cleansing and rearranging it, is referred to as ETL and this is often one of the most time consuming element of data warehouse projects.
Companies supporting Open Source BI software:
Some of the most popular BI software includes JasperSoft, Palo BI Suite, Pentaho, Eclipse BIRT, Openl, RapidMiner, JMagallanes, Spago BI and Mondrian. These open source BI software will be looked at in more detail in a following article.
Skills development
For more about how to find the best Open Source Business Intelligence, Data Warehousing, and analytical tools and how to integrate them into a mixed open-closed computing environment as well as best practices for evaluating and implementing Open Source Business Intelligence and Data Warehousing, seminars are available by Technology Transfer at http://www.technologytransfer.it
Did you find today's article a bit difficult to understand? If yes, then you should also check out What is Business Intelligence and Data Warehousing – written specifically for layman just like you and I.
Yolande Kleynhans
(yolandek 'at' mtn.blackberry.com)