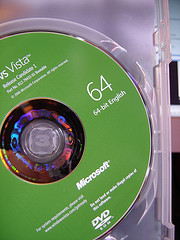 Is your organization already adopting and using Sharepoint Server for collaboration, document management and enterprise content management purposes? If yes, then did you know that there's going to be a new version released soon? The upcoming version is called Sharepoint Server 2010. Ever wondered what's the major difference between this new Sharepoint version against all the previous versions?
In terms of features and functionalities, I haven't seen or heard about any key differences yet but in terms of infrastructure and server requirements, according to Sharepoint Team blog, yes there's a major difference which is everything will and has to be 64 bit:
SharePoint Server 2010 will be 64-bit only.
SharePoint Server 2010 will require 64-bit Windows Server 2008 or 64-bit Windows Server 2008 R2.
SharePoint Server 2010 will require 64-bit SQL Server 2008 or 64-bit SQL Server 2005.
I don't think this requirement would affect the large enterprises much. I'm sure they have the resources, funds and requirements to go for Sharepoint Server 2010. Image by trekkyandy.
However, there might be a concern for developers. If I need to do development for Sharepoint 2010 and to test and run it effectively, I'll need a 64 bit machine to work on. By the way, are there any 64 bit notebooks available out there in the market? From my research, yea there are 64 bit notebooks available but it's just not as common.
So, for you Sharepoint developers out there. Would this 64 bit requirement trouble you in any way? Would appreciate your thoughts and views on how to overcome this.
As to why the decision to make 64 bit a minimum requirement for Sharepoint, well it basically provides much improved performance and scalability for Sharepoint Server. But in order to achieve this optimum benefit, both 64 bit hardware and software must work together at the same time. This is the main reason why Sharepoint Server is created 64 bit from the software perspective.
Even so, any plans to release 32 bit Sharepoint Server just for the less fortunate ones? 🙂