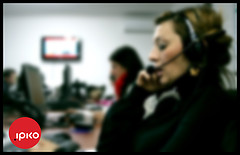 Before we proceed to elaborate on the functionalities of various call center software, let's take one step back and look at the concept of call center software first. Photo by Armend Krasniqi.
I remember a friend once asked me this, what is the difference between call center software and help desk software? Aren't they the same?
Some may not be sure whether call center software is the same as helpdesk software and others may have questions about various types of call center software.
I would like to divide call centers into three main categories:
1. A call center that forms part of the Customer service and support (CSS) function
This forms part of the customer relations management (CRM) function in the organization.
The purpose of customer relations management is primarily to enable an organization to manage it's customers through systems, procedures and processes for interacting with those customers.
There are three areas of business that typically fall under the main category of customer relations management, being:
Sales force automation (SFA)
Enterprise marketing automation (EMA) and
Customer service and support (CSS)
Call centers that form part of the customer service and support function (CSS) will typically be referred to as a help desk.
They will handle issues such as information requests, complaints, service requests and product returns.
Within the Customer service support (CSS) function, the internal help desk and inbound call-center support for inquiries from customers may be referred to even more specifically as the Customer interaction center (CIC).
2. An internal call center that exists for the purpose of delivering a special service as an outsourced 3rd party at a fee
Specialty roadside assist services may for example be required by a vehicle manufacturer such as Audi. This vehicle manufacturer may prefer however to rather attend to their core business, which is manufacturing and selling vehicles, and may want to rather outsource the roadside assistance service to a third-party specializing in delivering call center services to a variety of clients.
This roadside assistance is thus the core business of the call center and does not form part of the CRM function of the organization as such. The client of the call center in this example would be Audi, it would not be the caller.
3. An outbound call center that exists for the purpose of generating sales to potential new clients.
This kind of call center will typically involve cold calling. Software with features to assist with tracking which numbers have been called, what the feedback were and which products were sold to whom and when, will be useful.
The software needs and requirements for the various kinds of call centers will differ significantly from one another. In spite however, of the type of call center that may apply as indicated above, there are typically three types of software that may be necessary. These would include:
1. Operational software that allows for the call center agent to log details such as activities and categories relating to the conversation with the caller/ called.
2. A call management software system that can manage the process of pushing the right call to the right agent. If for example agents are divided into special groups, based on languages they can speak, and type of product or service they are specialized in, the call management software system will ask the caller to select a category and will enable from that selection for the call to go to an appropriate agent to handle it.
It will typically also track details of all incoming calls such as:
the agent the call was allocated to
calls that were terminated before an agent could be connected
phone number used (where more than one number is given to clients)
Statistics such as number of calls ended before answered and waiting time before answered may be gathered from this software.
3. A time-table, rostering system for agents. The more agents and types of services there are, the more complex the time table management will become. Although this could be done manually, many managers would prefer for a software solution to manage this for them.
Check out a list of top open source Sales Force Automation software or StarPound – an open source call center solution to assist your call center today!
Yolande Kleynhans
(yolandek 'at' mtn.blackberry.com)