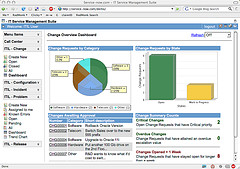 More and more software as a service (SAAS) web application are emerging these days. We can find many SAAS sites which offers a range of services from Enterprise Resource Planning (ERP) to Personal Finance Management. Image by cote.
SAAS web applications provide the following key benefits over onsite installed software:
No or little effort required to maintain software and servers
Quick to deploy and implement
It doesn't take months to implementation
No huge up front fees
Get to try and test the features and functionalities before purchasing
Most organizations these days are remaining competitive by getting leaner with less employees and technology to manage. For example, a legal firm that specializes on providing legal consultations can focus and work on what they do best and leave the technology maintenance to the experts, in this case the SAAS providers.
In my opinion, some services can be hosted online while some others might require a lot more effort to educate and change the mindset of potential customers to migrate or even adopt. Take anexample – ERP SAAS providers. An ERP system is usually the core of the organization. Core as in, if the data falls on wrong hands, business continuity could be affected. Also most ERP system needs to be customize according to the organization's business processes. Creating an ERP package which is common and standard for all organization could be challenging for ERP SAAS providers to provide.
One key service that most organizations provide is IT services such as:
Network / Internet Access
PC / Notebook Usage
Email Provisioning
Business Applications
If your organization currently has a method to manage the provisioning of the above IT services then it's good. But if not, a web based IT service management tool can come in handy especially when you have end users from all over the world. This tool will allow your end users to:
Report any issues they may have with the IT service they are receiving
Search for information within the knowledge based
To find out if the problem that they are having is a known error
View the latest IT service offerings via the service catalog
A web based IT service management tool will not only benefit your end users but also your IT staffs as they can manage the following easily:
View and take action on an end user's incident even from home
Create a known error for all to be aware off until there is a solution
Initiate a change request for the IT service owners to take action on
View from a high level on the bottleneck problems within all IT services. If most complaints are relating to email service unavailability, then you know where to improve on.
So obviously there are many benefits to adopt a web based IT service management tool. One such provider is Service-now.com
The main reason why I highly recommend Service-now.com is because recently they have achieved PinkVERIFY status for the following 11 processes.
Incident management
Problem management
Knowledge management
Request fulfillment
Change management
Release and deployment
Service asset and configuration
Service level management
Service catalog management
Service portfolio management
Financial management
With this certification, customers can really be assured that Service-now.com is not just another SAAS provider but one which meets the industry's stamp of approval for ITIL compatibility.
Check them out – Service-now.com