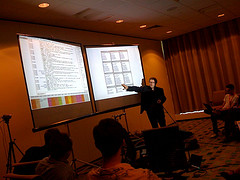 Being able to provide your customer with a proper support is a key to success in today's business. photo credit: Iain Farrell
If you're an IT guy and don't want to rush to your clients each time a minor problem arise, a simple telephone call or email may just not be enough.
You may require aiding your customer with remote desktop support, which in such cases is beneficial for both parties.
If you're looking for a solution for simple web presentations or a way to collaborate with your coworkers from different locations, look no further, Mikogo is the right tool for you.

Mikogo is advertised as a free screen sharing tool for people and business.
You may wonder: where's the catch? Well… there's no catch, it's really free for personal and commercial use.
There are a lot of web conference tools out on the market, but majority of them is really expensive, and as such they are not a good choice especially for small business owners.
In comparison, Mikogo provides its users with the same functionality and a great ease of use and no unnecessary expenses.
The only true limitation I could find is that it allows you to share your desktop with up to 10 participants simultaneously. But in fact, for many users this is not a limitation at all.
This is an excellent piece of software that presents itself with plenty of ways to use it.
It may come in handy for:
Web presentations
Remote control
Online meetings
Web conferences
Product demonstrations
Webinars
and more…
I had an opportunity to use Mikogo several times for product presentation. It worked perfectly each and every time.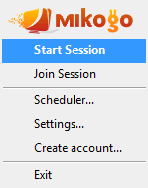 Creating online meeting sessions was quick and effortless, much easier than a costly WebEx solution, which I also used previously for presentations and staff trainings.
You should definitely give Mikogo, a WebEx free alternative a try. Simply register on their website, download Mikogo and create your first session.
You can start a session right away, schedule a session and set reminders, select applications you wish to share during the presentation and choose which should remain hidden.
Setting up a new session is very simple and intuitive. After starting a session, you are given a unique session ID number and a link to Mikogo's website, which you then need to forward to all participants.
They simply have to log in, and bang! That's it. At any point in time you can switch presenter, or request remote control. This allows you and your participants to interact during the meeting, and provides great flexibility for remote support services.
If you think that there's nothing more you could get, guess what?
Alongside superb functionality, Mikogo makes a lot of effort to keep your communication secure with 256 bit AES encryption for all information transmitted within sessions, website encryption and many more.
In addition to that, you may be interested in other Mikogo's functions that include: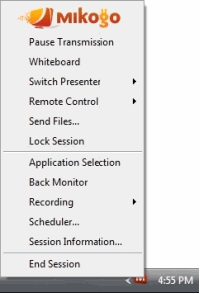 Participant pointer
Session recording & playback
File transfer
Whiteboard
Back monitor
Pause of transmission
Copy/paste/email meeting info
Adjust speed/quality setting
Voice conferencing service
As mentioned before, the only limitation I could find within Mikogo is that you can invite no more than 10 participants to your presentation. If you have a need to collaborate over the internet with larger group of customers, business partners or coworkers, than you should consider buying BeamYourScreen, another product by Mikogo developers.
Mikogo is a great way to organize online meetings, conferences and presentations. Large corporate companies will probably not benefit from this software, as conferences and internal trainings are usually organized for wider groups of people.
However for small and even medium sized businesses, I cannot think of a better desktop sharing solution. Check out Mikogo – the WebEx free alternative!
Szymon Podrzycki