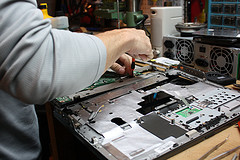 A service catalog is a listing of services that an IT company provides to their customers / users.
The purpose of a service catalog is to ensure that a customer is able to find out about and utilize specific IT service that they may need.
For example, if a customer needs a new laptop they will use a service catalog to find out more on how to go about requesting for one, who to talk to and if there are any cost associated to the service request.
Users sometimes have a hard time explaining what they are looking for or what they specifically need done, especially if when they are not tech savvy.
The service catalog helps to break down that barrier by allowing the customer to know the scope of IT services that they are entitled to.
The service catalog is usually broken down and organized in a way that is easy to navigate.
Formatting and developing a service catalog is not a difficult task to achieve.
You just have to make sure that the service catalog provides all the necessary information and should be user friendly.
By that I mean, it should be stated in a language that a layman can understand. Using large technical word can make it overwhelming for a customer if they are not familiar with the term.
The first steps in starting your service catalog are pretty simple. They will be broken down below to give you a short check list that can be used for your service catalog. This is an 8 step system to developing a service catalog.
Step 1 – Define high level core services
This will break down the highest level of services that your IT team provides for their customers. It is also similar to an outline of everything that is offered and each service is broken down into its own category. This makes navigating the service catalog much easier. For example, network and application provisioning core services.
Step 2 – Define sub services within each core services
This step will break down the core services a bit more. Each service provided is broken down into details explaining what will be done. It gives a descriptive summary of what the individual service entails. For example, Internet service provisioning and Intranet access.
Step 3 – Relate services to existing customers / users
Step three gives the IT an opportunity to focus on services that are already being used by their existing customers / user. It also gives them an idea of which of their services are most popular allowing them to be prepared for any requests that usually come in high volumes.
Step 4 – Set high level expectations and dependencies to services
This step allows you to keep track of all aspects  that a particular service depends on. This also starts the foundation for OLA's and SLA's.
Step 5 – Establish operational level agreements (OLA)
This step defines the dependencies and relationships between internal IT support groups and possibly with external IT vendors working together to support a service level agreement.
Step 6 –  Establish service level agreements (SLA)
This step puts the customer / user and IT agreement in place based on the service level and service availability.
Step 7 – Tag the cost of each service
This step pretty much gives you the ability to put a price on your services based on level of service provided.
Step 8 – Ready for service catalog development
The final step is all about documenting all required details to go into the service catalog.
Here's a good comment by Amir:
If I really want to complete my friends' quote about service catalog, I would like adding some more notes and hints.
First of all, I believe before you start documenting your service catalog, you have to select the documentation platform and technology. We are in an electronic world and there is no value in documenting services on paper and have their SLAs to be signed by contractors. I think service catalogs should be based on an web based platform where everyone can search and find SLAs and OLAs. Two more important items that should be your concern when developing a service catalog are service announcements and service heartbeat. Your customers (governmental or public sector) likes to have status panel for the services they are paying for which gives them some news about Downtimes, Risks, Daily Operations and etc. Moreover, there should be always some icon with variable-meaningful color which shows the state of the service in Normal, Faulty, Error situations.
My second offer is to start cataloging by well-defined services like Messaging Services, Booking Services, Identity Services and etc. These services are spread around the world and there are many sample catalog examples for them. You can start finding proper samples to make you own version of service catalog.
The third item is about knowledge management. I am sure you have seen these wiki sites that every word within a paragraph or pages is hyperlinked to another page, giving you more information on that concept. If you really can handle creating these links between concepts as best as possible, I am sure you will have plunge in the number of question that your clients ask. I think you have to consider this option in your documentation platform.
Fourth, never create and escape. Service catalog is something that needs the be refreshed in any second. Eventually it will become daily habit of your client to check service catalog panel should it have any new information of announcement. If you do not update that panel, they'll lose their loyalty and never come back. It is the time that you become just a simple advertiser of service that never really gives information about the offerings.