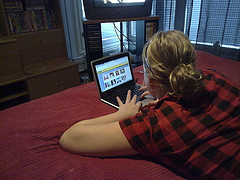 Sometimes your colleagues come to you and ask for a favor to simplify their tasks by offering new tools. photo credit: Micky.!
Recently, I had a request to find a solution to copy a series of report files from a web server to another FTP server located in another company without any human intervention.
The very first thing that came to my mind was synchronization and related tools.
Synchronizing files among several destinations is one of the tasks that almost every computer engineer have to do these days.
Although a simple copy/paste operation may be a working solution but increased number of files and their growing size has made it the worst option.
Nowadays, software tools like Microsoft's SyncToy brought a simple synchronization framework to the previous copy/paste old habit with more efficiency. Although SyncToy is free to use but it only supports Windows OS and works on its respective file system.
For what I was asked to do, I need a tool that could be scheduled for file transfer between Windows directories and FTP servers. There are lots of tools on the Internet that can do such a task using an internal scheduling engine with suitable GUI but they are not free and you have to pay for them.
If you are a computer expert and you can handle some simple configuration parameters, CyberKiko has provided a light and free package called FTPSync that could be scheduled using Windows Task Scheduler. FTPSync has a GUI that only shows activity of the software and you have to set configuration parameters using an INI file.
Although this way of configuring a software is not very easy but the on-line documentation and the sample configuration files are enough to have a better understanding of how it works.
To summarize the good and bad points of FTPSync I can say:
Pros:
supports UNIX, Microsoft, IBM and Novell type FTP servers
able to synchronize two FTP sites or local directories
only new or changed files are transferred
console type application that can be easily executed from various schedulers and batch files
simple and on-line documentation
steady package update and change management
Cons:
FTPSync is intended for computer experts – it has no user interface, so users must know how to edit standard Windows INI files.
Checkout FTPSync today!