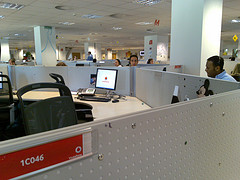 Call centers handling a variety of simple to complex customer calls often do a comparison of call center software when they look to this technology to help them have a more efficient customer oriented call center.
Comparison of call center software shows that most software includes features like computer telephony integration, call recording and monitoring, performance management analysis and work flow.
Call center software is available for small, medium and large organizations who can access it in a variety of ways from numerous vendors including those with a history of over 20 years of development and experience.
Sep 10, 2012 - oracle.com -

232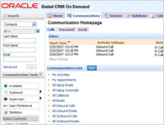 The call center software offered by Oracle is called Oracle CRM Call Center On Demand. It is designed for all sizes of companies and industries and is accessed on demand by the user. This suite is the first and currently the only hosted software contact center residing in a hosted CRM solution. Voice, email, voice mail and the internet is available on demand as a monthly service and routes these communications to locations and groups. There is no need for integration and the software can be deployed immediately. A unified view of all activities of the customer aid in one call service.
Sep 10, 2012 - frontrange.com -

193
Having first created GoldMine CRM software, FrontRange developed their call center solution, FrontRange Voice for any size of company within any industry vertical with special consideration given to small to mid-sized companies. GoldMine software integrates with the call center solution which provides core service and support and has an intuitive user interface. FrontRange Voice has a web-based application builder, conversation recording tools, internal web based reporting, management tools, call routing, VOIP technology, scripts and list management.
Sep 10, 2012 - genesyslab.com -

224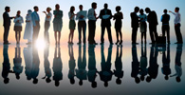 Genesys is an Alcatel-Luceent company and their development is focused completely on call center software solutions. The name of the call center suite is Genesys Contact Center Software suite and nearly 1 million calls and over 40,000 emails can be routed each hour. Customers using the call center software include most of the largest telecommunications companies, most of the largest commercial banks and largest airlines. The software runs on an open platform, integrates with major CRM applications and is a "pay-as-you-go/on-demand software solution.
Sep 10, 2012 - incontact.com -

254
Award winning inContact call center software platform, from UCN, Inc. runs on the SaaS model and is an enterprise software suite that handles inbound customer service, direct response, order entry and reservations. The software is licensed on a per user basis and is scalable. Following the software as a service model there is no hardware, maintenance fees or configuration necessary. The proprietary software is hosted on the VOIP network owned by UCN, Inc. so UCN/inContact customers realize competitive pricing.
Sep 10, 2012 - phonefusion.com -

265

The five current call center solutions offered by PhoneFusion are PhoneFusion Call Center Edition, Call Tracking and Geo Tracking, Inbound Virtual ACO, Outbound Predictive and Preview and PhoneFusion Virtual Office. The solutions are hosted requiring no hardware or maintenance expense, used for inbound and outbound centers, business intelligence and is designed for small to medium companies. The PhoneFusion service Delivery Platform is located within a Verizon class 4 data center.