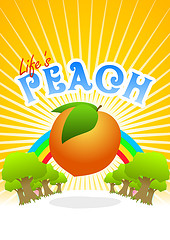 Look at the vector images above, to the right and below. Try to guess which vector imaging software was used to produce the images. If you're thinking of either:
Adobe Illustrator
Corel Draw
or Macromedia Freehand
Yes, any of the above vector imaging software allows you to draw and create the images but the best thing about these images, they are created via a free and open source vector imaging software called Inkscape. Life's peach image by Andrew Mason
Inkscape is an open source vector graphics editor, with capabilities similar to Illustrator, CorelDraw, or Xara X.
Some Inkscape capabilities include:
Create sine curves
Apply gradient to a stroke
Create colored tiling of clone
Inkspace uses the W3C standard Scalable Vector Graphics (SVG) file format, a  XML-based file format for describing two-dimensional vector graphics, both static and dynamic.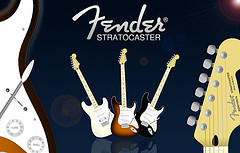 Inkscape supports many advanced SVG features  such as markers, clones and alpha blending. With Inkscape, it is easy to edit nodes, perform complex path operations, trace bitmaps and much more.
Best of all, there is a large community of Inkscape users and developers because of its open concept. Fender image by nickrober
So far, I find Inkscape to be:
Fast and stable
User friendly and easy to use
Made for all since it can run on Windows, Linux and Mac OSX
Has many functions capable of matching the proprietary ones
Head on over to Inkscape's website and download a copy today.
For those who are more interested in editing photos instead, check out Aviary, a free online image editor similar to photoshop UI.
Also, another really neat online photo editing tool which automatically places and blends your image into a background is PhotoFunia.com
Don't know what PhotoFunia.com can do, see the sample below and you'll get it. Enjoy!