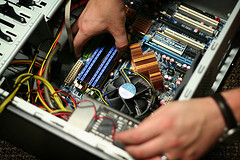 Did you know that the IT support team within your organization carry big responsibilities to ensure that all IT systems and its infrastructure work perfectly without any problems? photo credit: ginnerobot
Whenever an IT device or system malfunctions, IT users are affected and won't be able to carry out their duties normally which usually leads to loss in business productivity.
These are some common problems faced by IT users and IT support staffs:
Users are complaining that IT systems and Internet connection is slow.
User's hard disk runs out of disk space and constantly pops up a warning notification.

IT users do not have a centralized area to report their IT problems which causes a lot of anger toward IT team.
IT support staffs on the other hand encounter the following problems:
Difficulty when troubleshooting IT problems due to lack of IT transparency.
Difficulty keeping track of the various software that have been installed on user's machine.
A few nice and friendly IT support personnel are suffering from stress and burnout because they keep getting request for support calls from IT users.
All organizations no matter how big or small can benefit from tools which are specifically designed to help in IT infrastructure management and support.
One such software that can help reduce all the above mentioned problems is Spiceworks – a free IT infrastructure management software to simplify IT.
I have to admit that I'm a little late in recommending this great free tool to everyone out there.
Hopefully late is better than never for you folks to begin monitoring and troubleshooting your IT environment.
What I really like about Spiceworks has to be its multiple features and capabilities which works well and integrated as a whole.
In the past, if you needed an IT inventory software, you would get just that. Then, if you also need a help desk software, you would have to install that as a separate app which is probably provided by another vendor.
With so many different types of IT management apps to install and manage, IT support staffs have more tasks and responsibilities to carry out.
With Spiceworks, things are a lot more simpler as you can:
Run an IT help desk
Monitor your network
Inventory your network
Manage configuration changes
Map your network automatically
Troubleshoot network problems
and more…
I personally downloaded Spiceworks (28MB) and installed it on my virtual machine and it ran without any glitches.
Although the tool is web based, I didn't have to set up the web server or database to get it up and running. Installing Spiceworks was as simple as launching the executable file and it does the rest for me.
Besides providing network management and help desk capabilities, Spiceworks integrates well with Exchange by monitoring Exchange server for its health to ensure that unified communications is never down.
If your organization uses Active Directory, the People View module integrates AD with Spiceworks allowing administrators a good view of all users within the office network.
Since Spiceworks have so many features, I can't mention all of it here. The best is for you to give it a try, even if you have only about 10 devices to monitor where you can still benefit from the tool by adding in devices warranty information to track when the warranty expires or needs renewal.
For more info on this free IT administration tool with help desk feature, check out Spiceworks today!