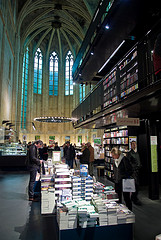 In the past, whenever someone asks me what software should they use as their organization's intranet system for the purpose of knowledge management repository, I would recommend either Sharepoint or Google Sites (Read a previous post on How to manage and retain knowledge through Google Sites). 
Both Sharepoint and Google Sites can be used to manage information and for office collaboration purposes as well. It depends on the decision maker's preference on which solution best fits their requirements.
Whenever I mention Sharepoint to my friends, this would be their question:
Is there something cheaper? I do not even want to invest on an operating system just to be able to run Sharepoint.
Whenever I mention Google Sites, this would be their question:
Is it safe to place confidential documents in Google Sites? We're worried about security!
It looks like there is a gap between Sharepoint and Google Sites. People seem to want the flexibility to host their information/knowledge on their own at little or no cost.
Is there such a solution?
Yes, there is. Today, I stumbled on something similar which is open source and can be installed within your office environment. This open-source solution runs on:
Apache 2.2 Web Server
PHP 5
MySQL Database
The solution is called Feng Office Community Edition – an open-source web-based knowledge management tool.
The main capability of Feng Office has to be its Workspaces which is like a folder or container for you to store and organize your data. See screenshot on the right.
It's also the starting point when you begin to set up the system.
Some organizations create workspaces based on their office departments such as HR, IT, Finance, etc.
If your setup is not that big, you can organize the workspace based on business development, projects, etc.
In within each workspace, you can create sub workspaces as well. And in each workspace, you would have the ability to add any of the following key features:
Notes
E-mails
Contacts
Calendar
Documents
Tasks
Time tracking
Web links
Search & filters
Some sample screenshots:
Contacts
Documents
Calendar
What I really like about Feng Office is the variety of features within a single solution. In the past, I have implemented many single open-source software which does just one feature. The problem with this is the various software to manage as well as it various userID and passwords. With Feng Office, single login access provides all the features necessary to store information and collaborate any time anywhere.
Feng Office is also created in a way that allows all sorts of users from different kinds of industries to utilize the system. So far freelancers, corporations, academia, students, have utilized the solution to their advantage.
The Feng Office Community Edition is meant for those who are able to set up their own machines, network as well as install the solution.
For those who do not have the technical abilities to do so, you can opt for the Feng Sky where the app is hosted by the providers. A concept is similar to Google Sites.
Feng Onsite on the other hand allows you to host on your own but with automatic upgrades, customized services depending on business needs, and support services. This option is great for medium-sized companies which have a smaller budget and require the peace of mind that the solution providers are available for support whenever necessary.
If you're like me, a technical dude and a one-man show, then the Feng Office Community Edition would do the trick. Check it out today!