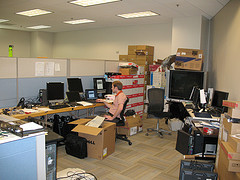 Does your organization offer various services to both internal and external customers? Photo by hoyasmeg.
Most organization nowadays do offer some sort of services whether it's IT support services or product enquiry services.
For all services being offered, is there a way to track its effectiveness and efficiency?
There are many ways to do so, but one common method is through Service Level Agreements (SLA). Creation of SLA is another topic altogether.
Let's take a scenario whereby an IT department provides the following IT services such as:
Provisioning of desktop PCs and notebooks
Providing email account to all new staffs
Providing Internet access account
Providing access to corporate related applications such as CRM, Intranet, HRMS, etc.
Why implement IT services chargeback?

For many organizations, IT support services are provided free of charge to other departments. Because of this, the services provided by IT can sometimes be taken for granted whereby users demand and request for unreasonable number of services without ever considering what it takes to provide the services successfully.
By implementing an IT services chargeback, both the IT users and the IT personnel can benefit greatly.
IT users now know and understand the complications and charges for requesting an IT service.
IT personnel now needs to be fully accountable for rendering an IT service because it's no longer provided for free but at a cost which potentially impacts his or her bottom line.
The typical reaction to an IT services chargeback implementation
When other departments find out about this new decision by IT to begin charging for IT services, their response could be, fine, we don't mind paying for an IT service but there must be some SLA associated to the service. In the past, whenever a service request is made, for example when the HR department requests for a notebook for a new salesperson, sometimes the notebook can be provided in a day but there are times when it can only be provided after a week. The inconsistencies in services provided by the IT are causing other departments productivity lost.
How to implement an IT services chargeback
So as an IT Manager, you'll need to find a way to be able to charge other departments for IT services rendered successfully within what's stated in Service Level Agreements. To find out more about the processes surrounding Service Level Management, which is part of the ITIL Service Design volume under the new ITIL v3 (published in May 2007), check out Wikipedia: Service Level Management.
One way to tackle this would be to utilize ITIL / Service Level Management software in the implementation to help:
Display a list of services offered (Service Catalog)
Allow customers to request for a service
Allow service agents to response and react to a service request
Potential customers know about the SLA which is tied to a particular service
And most importantly, allow a service level manager to monitor which services are not being delivered according to what's stated in the SLA.
It is important for Service Level Managers to ensure that all services can be delivered successfully in time so that they can charge and bill for a particular service. In some instances especially for availability management, if a certain service such as email access is down for more than 24 hours, IT is not allowed to charge for the service but instead need to be accountable for any loss in productivity.
In the next post, I will walk you through how you can utilize an open source Service Level Management Software to implement an IT services chargeback model.