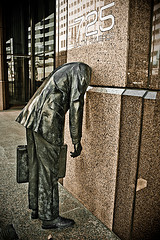 I recently read this post IT disasters: What Was your Biggest Screw-Up as published on ReadWriteEnterprise.
Reading the post got me thinking about the various IT disasters that I've personally experienced and heard stories of.
If you've encountered an IT disaster before, you can understand the pain and anxiety of having to go through the terrible experience.
Some of the common IT disasters that we often hear about includes:
Having backups which can't be restored at all.
Accidentally deleting the boss's email account from the email server.
Accidentally dropping a production database while trying to delete a table!
When accidents / disasters like this occur, the first thing that comes to our mind is, do we have a backup? If yes, when was the backup made? Yesterday, last month or last year?
In the post, one commenter mentioned that their school's main file server went down and they lost an entire year of student records which include grades, financial records, etc.  Best part, they didn't have an up to date backup.
Whether it's the IT administrator's fault or the backup device's fault, when an IT disaster occurs no one will benefit from the downtime. In fact, many will suffer the following consequences:
Productivity loss
Sales / revenue loss
Communications breakdown
Business process interruption
Despite the occasional warnings that we read from news and IT related sites, many organizations are still leaving their IT systems / infrastructure vulnerable with hopes that there won't be any major IT problems occuring within their business.
I guess many IT folks do understand the importance of having a disaster recovery process / system in place but encounter difficulty when it comes to obtaining the right amount of budget from the top management.
Since a disaster recovery solution doesn't really adds to the bottom line from a financial standpoint, many opt to stay away from implementing a DR solution until something terrible happens. (i.e. ERP solution goes down or financial data becomes unrecoverable)
If you're about to recommend that a disaster recovery system / process to be implemented within your organization, what you can do is to highlight the cost of downtime to your bosses.
Let's say you're about to propose to the board to implement a high availability service, which statement helps them decide better?
We should deploy high availability services to our data center so that our businesses won't suffer losses in case of any downtime.
We should deploy high availabillity services to our data center or else we could suffer losses of up to $25,000 for every day of downtime.
I'm sure the bosses eyes would pop out when they hear a significant figure being mentioned.
If you need a way to calculate the cost of IT downtime for better IT budgeting purposes, do check out this cool site – DowntimeCost.com

DowntimeCost.com has a downtime cost calculator which helps to turn downtime threats into objectively quantifiable dollar amounts that will help with IT budgeting.
Basically the downtime cost calculator allows you to enter some key information such as:
Yearly revenue
Business hours in a year
Percentage of impact to sales
Number of employees affected
Average employee cost per hour
Average percentage that are affected
Once you key in these details and hit the panic button, it will show you in real time what 1 second / 1 minute / 1 hour of downtime is equivalent to in dollars and cents.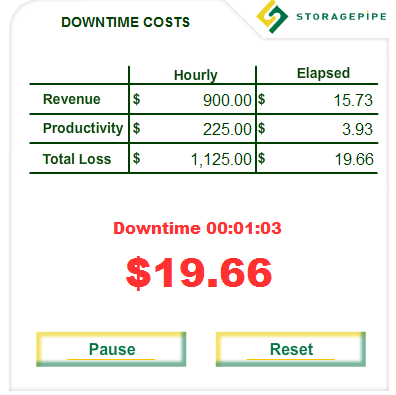 For more details on how to go about calculating downtime cost, check out DowntimeCost.com today!