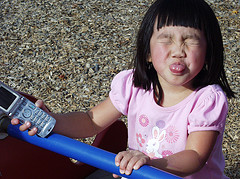 I have a friend who is in the VOIP business providing call savings for their clients.
From my discussion with him, I found out that most VOIP service providers have capabilities to direct calls to their VOIP servers thus providing call savings to end users.
Recently he has complained about frequent downtime affecting his business. The problem is this, whenever a service or the entire VOIP server goes down, end users who are trying to make a call would not be able to do so. Imagine a customer trying to make an important call but not able to. Surely, they would be frustrated. Photo by marcalandavis.
So my next question to him would be, does your server / network administrators know about the health of your server?
Huh? Health of the server? He thought that only human beings and cars need to be checked for its health.
I explained further to him.
Servers and networks can be checked for its health by looking at some of the following vital points:
Network bandwidth
Network bottlenecks (e.g. when congestions occur)
Server CPU utilization (e.g if the CPU hits 100% most of the time)
Server memory utilization (e.g if the memory is low)
Server hard disk space capacity ( e.g. if the HDD is running out of disk space)
All the above components need to be actively monitored to ensure some sort of preventive maintenance is in place. One way would be to implement an application and Network Monitoring Software (NMS).
For example, by utilizing a network monitoring software, the administrator can easily see that a server's hard disk space is running low and take preventive measure by either adding more disk space or clearing space such as backing up and deleting log files.
An IT business which has servers, systems and a network without utilizing an IT and Network Monitoring Software is like someone driving in the dark without head lights turned on (while wearing sunglasses)! 🙂
I'm sure he gets the idea now. So his next question to me was, how should he choose an effective network monitoring software which is affordable, reliable and scalable?
There's really no right or wrong when it comes to choosing a tool. He just needs to make sure that the network monitoring software has the following capabilities:
Dashboards and reports
The role of an IT administrator is not an easy task these days. But with dashboards capabilities, an administrator can have an overview of the entire systems and network infrastructure all in within a single page.
Also it's important that these dashboards can be customized because one may want to see certain graphs while someone else might want to see another.
Integration
The network management software of your choice should be able to easily integrate with other systems such as the help desk system, CMDB, the various types of operating systems ranging from Linux to Windows, etc.
Nowadays, most organizations have a combination of various types of technology. It is thus vital that the NMS is capable of integrating with various types softwares.
Auto Discovery
Some network monitoring solutions take a long time to implement because it does not have the auto discovery capability. Imagine having to configure each machine that needs to be tracked. That would be very time consuming before you can see your first report.
With the network auto discovery capability, it automatically discovers the network topology and its configurations for all network devices and servers.
Scalability
Today you may be interested to monitor just 5 servers. But what if along the way you decide to load balance your servers or even cluster your database, thus adding additional machines which may require monitoring? How scalable is the network monitoring software?
This is an important consideration to ensure that in few months down the road, as your business grows and demand for additional server resources increase, your monitoring software is able to handle these additional servers without any problems and glitches.
Cost
The one key reason why businesses are not monitoring their networks is because they are concern about the costs. Some software vendors would require you to purchase a hardware based machine just to monitor your network. Together with its yearly license maintenance, most organizations would run away from the sales people and decide to just leave their networks as it is.
A good network monitoring tool should be flexible in terms of cost which could easily fit into your organization's capital expenditure. There shouldn't be any upfront investment necessary. Probably some IT resources time to understand the software a bit more may be required. But other than that, it should be a charged on a periodic basis like something below $100 a year for a start to monitor 100 devices or less.
———————- End of key considerations ——————————-
In the end, my friend asked if I know of any network monitoring software which provides all the above. I told him to check out this Network Monitoring Software by GroundWork Open Source – a comprehensive, secure and manageable network and application monitoring software for medium and large enterprises. Hope it helps!