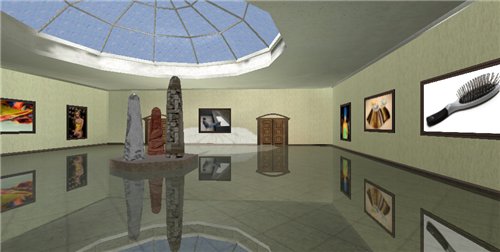 Check out the image above, it's actually a screenshot of an animated photo gallery created with Photo! 3D Album – a free windows based desktop application.
The images on the wall were added on without the need for any Photoshop editing. All I had to do was select an empty frame on the wall, then drag and drop an image into it.
The most powerful feature of this 3D photo gallery tool is not the drag and drop capability but rather its ability to create a virtual tour of all the images you've added.
For the virtual tour capability, you can choose to allow it to run by itself automatically or manually.
Manually here means that you can control where to go to as if you're playing a 3D CounterStrike game. Of course there is nothing to shoot at, but basically you can walk towards a particular photo, click Enter to Enlarge it. You can even run or jump. This is so amazing, you've got to try out the tool.

After adding in all pictures into the empty frames you can do the following:
Upload it to a web gallery in Shockwave Format.
Turn it into a 3D screen saver, which runs automatically.
Export the photo gallery to an executable file so you can pass it to friends and family members.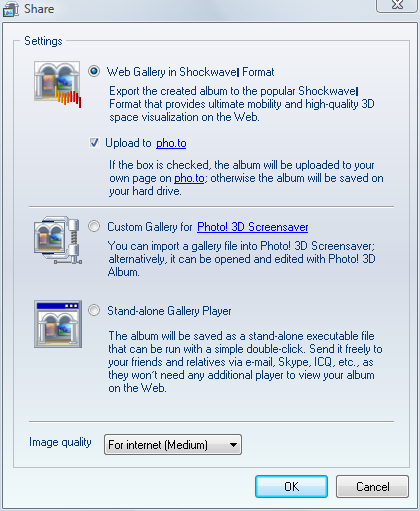 For organizations, I can think of several ways how this tool can be utilized:
If you own a retail store, a virtual gallery of all your store's products can be created and uploaded to your website. For a customer, rather than looking at a static image one by one, he or she can view it as if it's a movie of all your products.
Just came back from a company trip? Rather than uploading all the interesting photos into the intranet, create a virtual gallery of the images and impress your colleagues.
Create a competition in within a group of people to see who can find a particular image in the fastest time. 🙂
Enough of reading what I wrote. Check out my actual 3D Photo Gallery below.
In order to navigate the virtual tour, use you directional arrows to move around. By default, it will move automatically. To move around manually, press the space bar.
If you have trouble viewing the flash shockwave above, try viewing it here instead. Check out Photo! 3D Album today! Hope you like it! Enjoy!