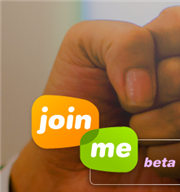 A friend recently asked if I know of a way to remotely control a PC from a Mac or vice versa.
The reason he asked is because he works on a PC at office and occasionally needs the ability to remotely control his wife's home based Mac.
I recommended him to check out join.me, an online web based tool which allows anyone to perform remote control and screen sharing for FREE.
Traditional services like Team Viewer and Skype are without doubt excellent services but you don't always have them already installed on your machine.
With join.me, all you need is a web browser with Flash support  and you can begin sharing your screen or request permission to remotely control someone else's machine.
The world is turning to cloud computing and therefore people are seeking for online applications which work instantly without the hassle of downloading and installing heavy software before getting to use a particular service.
The online experience provided by join.me is good where you do not need to have any large application already installed on your desktop.
The following are some key requirements to run Join.Me:
Viewer requirements
Flash Player 10
Internet Explorer 7, 8 or Firefox 3 or Chrome 5 or Safari 5
Host requirements
Windows 7, Vista, XP, Server 2003, Server 2008 (32 or 64-bit)
or Mac OS X Leopard (v10.5 Intel-based), Snow Leopard (v10.6 Intel-based)
Broadband connectivity to the Internet (i.e., T1, cable modem, ISDN or DSL)
Join.me provides two key functions for all users. Screen sharing and remote control.
Once you click on the share screen button, there will be a short test analyzing your computer to check if it's ready for a screen share.
Next, a small and light app (1 MB) will be downloaded and executed on your system and you are all set to go.
Every user is provided with a unique number and link that you can share with your friends to allow them to view your screen or even allow them to remotely control your machine.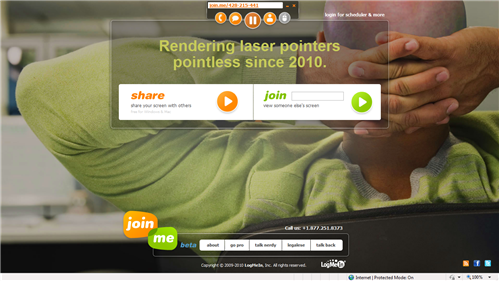 Besides screen sharing and remote control, you can also perform instant messaging with people who have participated in your screen sharing session.
Since join.me works via a browser and can be installed on both the Mac as well as PC, trying to remotely control a PC from a Mac or vice versa shouldn't be a problem at all.
Join.Me is also great for sales persons to provide web based demo or presentations to clients as they can easily view your mouse movements as if they are sitting right beside you.
In case you're wondering how secure this online app is, it is secured via a 256 bit SSL encryption – the same type of security level used by most banks.
Another key highlight is the SaaS app is created and provided by LogMeIn, an established solution provider of remote control solutions.
So if you have reached today's post to learn how to remotely control a mac from a pc or vice versa, head on over to Join.Me today!