As a store owner, do you sometimes wish that you knew a little bit more about the potential client that just walked into your store?
It might be useful to know where they are from, what their preferences are, what have they purchased recently, etc.
With some of these information, it will definitely be a lot easier to connect and communicate with the person and potentially close a sale.
Of course you could try to ask them these questions directly but they might feel that you're hard selling and just leave if you dig too deep.
In the real world there's really no easy way to know more about someone without directly asking but in the online world it is possible to find out some of these details when they visit your website / webstore:
Visitor location (city, state, country).
Are they a returning or new site visitor.
If a returning visitor, what pages have they previously viewed.
If a new visitor, what search term did they enter to reach your page.
Technical info such as their browser type, operating system or if they are viewing your site using iPhone or Android based phones.
With these information, you can target and personalize your web site for specific site visitors based on their browsing details.
Let's take an example. You have a physical store as well as an online e-store selling teddy bears to people from all around the world.
Every year end your physical store runs a store wide clearance and you would like to promote it via your online store.
Instead of placing a big clearance sales banner on the home page where all site visitor from all around the world can view (not relevant for them), you can specifically target the banner to be displayed to only site visitors from a specific city, state or country.
So if your store is in Austin, only those who are viewing your site from Austin can see the banner.
This is what we call onsite behavioral targeting.
If you have a website and would like to be able to serve customized content based on your site visitor's characteristics then an online web based tool called BTBuckets can help you to do that for FREE!

There are many web analytic tools out there in the market such as Google Analytics, Woopra, Clicky and WhosOn but what differentiates BTBuckets from the rest has to be it's key feature which allows dynamic content to be served based on a site visitor's behavior.
In other words, rather than just displaying the number of visitors who are from Austin Texas, BTBuckets also allows you to serve dynamic content to this group of viewers.
I've given BTBuckets a try on this site and so far find the tool easy to use and understand thanks to its step by step videos.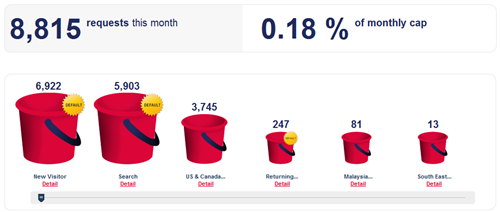 One way how I'll be using this tool is by showing relevant ads based on a user's geographic location.
BTBuckets is indeed a powerful behavioral targeting tool which is capable of personalizing your web pages to deliver highly targeted content to your potential clients.
For a more detailed explanation on how BTBucket works, do check out this BTBuckets Review or simply head on over to BTBuckets to try out the tool today!