During these uncertain times, many organizations are holding back on IT spending causing some software vendor shares to slide on early warnings. Companies such as SAP, headquartered in Waldorf Germany have indicated that the recent financial crisis has affected their ability to sign contracts as many customers put IT investments on hold. This illustrates how dramatically enterprise application spending has dipped in just a few weeks.
Most organizations feel that to implement an ERP solution, the cost is usually very high, tedious and requires a lot of time and effort to put in. At these times, most organizations may be looking for alternative software solutions which are:
Lower in cost
Flexible in many ways
Having a large group of users
Not dependant on the solution provider
To counter the drawbacks mentioned above, Open Source ERP solutions may be the answer. With Open Source ERP solutions, companies can download the solutions and customize it based on business requirements which fit the company's business flow and processes. Most times, implementor and users of these solutions are only bound to the type of licensing model that the ERP solution is released under.
If your organization is planning to implement an ERP solution which best fits the business processes within the organization, the following are six (6) good and proven Open Source ERP solution to evaluate and implement:


Compiere is changing the economics of enterprise applications by making Enterprise Resource Planning (ERP) and Customer Relationship Management (CRM) easier. Easier to acquire. Easier to implement. Easier to extend. Easier to change.
Compiere supports the following modules and capabilities:
Standard Reports – Report and manage the performance of your enterprise using standard reports and integrated reporting tools.
Business View Layer — Securely access business data through optimized reporting schemas.
3rd Party Analysis Tools — Use your choice of third-party reporting and analysis tools to analyze Compiere ERP and CRM data.
Manufacturing — Control Manufacturing operations with material planning, production scheduling and shop floor execution capabilities.
Purchasing — Automate the steps from procurement to payment.
Materials Management — Manage inventory receipts, shipments, moves and counts across your warehouses, suppliers and customers.
Order Management — Create quotes, book orders, manage materials, generate invoices and collect cash.
Global Financial Management — One system automates the processes of your business solution and manages your financial records.
Sales — Control your valuable customer relationship management solutions.
E-Commerce — Create and run a secure web store front.
Service — Manage the entire Service delivery lifecycle.
Customer History — See a 360 degree view of interactions with your customers.
Compiere is currently used by organizations in various industries namely distribution, financial services, health care, manufacturing, publishing, retail and professional services. Compiere has many success stories. One of their customers mentioned that as of 2008, Compiere is capable of managing inventory, ordering, shipments and accounting processes across more than 10,000 SKUs and through more than 50 subsidiaries and channel partners.


Openbravo is an open source ERP solution designed specifically for the SME (small to midsize firm). Developed in a web based environment, it includes many robust functionalities which are considered part of the extended ERP: procurement and warehouse management, project and service management, production management, and financial management.
Openbravo ERP supports the following modules and capabilities:
Master Data Management – Products, components, bills of materials, customers, vendors, employees
Procurement Management – Rates, purchase orders, goods receipts, invoice registration and accounting, purchase planning
Warehouse Management – Warehouses and bins, warehouse units, lots, serial numbers, packages, labels, receipts and deliveries, movements between warehouses, inventories, stock valuation, transport
Project and Service Management – Projects, phases, tasks, resources, budget, expenses and expense invoicing, related purchases
Production Management – Plant structure, production plans, BOM's, MRP, manufacturing orders, job reports, costs of production, work incidences, preventive maintenance types
Sales Management and Customer Relationship Management (CRM) – Prices, rates, varying quantity sales orders, shipments, invoicing, volume discounts, commissions, CRM
Financial Management – Chart of accounts, accounts, budgets, taxes, general accounting, accounts payable, accounts receivable, bank accounting, balance sheet, P&L, fixed assets, etc.
Business Intelligence (BI) – Reporting, multidimensional analysis (OLAP), balanced scorecards.
Recently, Openbravo was awarded by a Spanish business magazine called Capital in the Innovation Category. Openbravo, appearing in the Technology Section, is recognized alongside other respectable companies such as Volkswagen, Acciona and CINFA.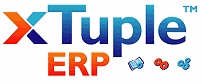 xTuple PostBooks Edition is a full-featured, fully-integrated accounting, ERP, and CRM system, based on the award winning xTuple ERP Suite.
Built with the open source PostgreSQL database, and the open source Qt framework for C++, it provides the ultimate in power and flexibility for a range of businesses and industries. It includes the following modules:
Accounting – general ledger, accounts receivable and payable, bank reconciliation, financial reporting
Sales – quotes, order entry, sales reporting, shipping
CRM – universal address book, incident management, opportunity management, to-do lists, project management
Purchasing – purchase orders, receiving, vendor reporting
Product Definition – items, infinite-level bills of material (BOM)
Inventory – multiple locations, other advanced warehouse features
Light Manufacturing – work orders, strong support for make to order
OpenRPT – open source report writer
Like all xTuple products, PostBooks runs equally well on Windows, Linux, and Mac and is fully internationalized (multi-currency, support for multiple tax structures, and multilingual translation packs maintained by xTuple's global community. PostBooks is licensed under the CPAL, the OSI-certified Common Public Attribution License.

OpenERP is an Open Source enterprise management software. It covers and integrates most enterprise needs and processes: accounting, hr, sales, crm, purchase, stock, production, services management, project management, marketing campaign.
The modules within OpenERP can be added on based on requirements. Some of the available module for add on are:
Accounting & Finance
Purchase & Procurement
Human Resources
Manufacturing
Inventory Control
Sales & Marketing
many more…
OpenERP is currently being used by customers from various industries such as Food industries, Banks & Insurances, Auction Houses, etc.  Metrexotic, a food industry company which specializes in exotic food uses OpenERP to automate their sales processes effectively.
For more info about OpenERP, check out OpenERP Review – a summary of the open source ERP.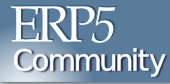 ERP5 Community provides all the features needed to run your business. From Customer Relationship Management to Human Resource Management, Document Management or Accounting you will find everything needed to turn your small business into the next success story.
ERP5 is a full featured ERP including customer relationship management (CRM), production management (MRP), supply chain management (SCM), product design management (PDM), accounting, human resources, e-commerce,
ERP5's web based platform allows users and administrators to use and configure it through a web browser. The design of ERP5's user interface is also unique and innovative thus making it a user friendly ERP system.
The ERP5 Express edition, provides ERP, CRM and KM funtionalities that most small businesses can benefit from. ERP5 Express can also be accessed via a mobile phone as it has optimized user interface for users to track tasks and statuses within the ERP system.


opentaps is a complete open source platform for your enterprise.  Its sophisticated features and modern architecture includes a full ERP and CRM solution plus mobile connectivity and built-in business intelligence tools.  Download opentaps today and see how it can automate processes, improve efficiency, and help your entire organization work smarter and better.
The following are opentaps key modules:
Online Store
CRM
Warehouse Application
Financials
Purchasing
Administrative Applications
You can use opentaps as an alternative to expensive and inflexible commercial ERP solutions, as a replacement for in-house solutions that are difficult to maintain or extend, or as a starting point to build your unique business model and processes.

JFire is a new, powerful and free ERP, CRM, eBusiness and SCM /SRM solution for business enterprises.
JFire is a very comprehensive and flexible Open Source ERP-Solution. It was designed to provide any sized enterprise with very powerful analysis, reporting, and customization options. This provides companies with a highly scalable system that supports small companies as well as global businesses who have large user base, multi-currency & multi-language requirements. JFire is entirely free/open-source software, uses the latest technologies (J2EE 1.4, JDO 2.0, Eclipse RCP 3.3) and is designed to be highly customizable.
The following are JFire's key modules:
Accounting
Flexible Price Configurations
CRM
Store Management
Integration with external payment and delivery interfaces
Reporting
——————————- End ———————————–
Here you go, seven (7) good and proven Open Source ERP solution to evaluate and implement. Enjoy.