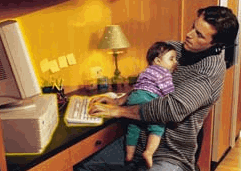 These days, more and more organizations are allowing their employees to telecommute / work from home.
Working from home is virtually impossible in the past as employers are unable to collaborate and discuss work matters with their employees when they are away. But today, effective communication and collaboration through the Internet is possible and has been proven to be cost effective and reliable.
Besides allowing staffs to collaborate online, the Internet also becomes a platform for office workers to remotely control an office machine from wherever they are. Some common situations when remote desktop software can be utilized:
Monitoring and managing an office server.
Access office pc and work from home. After all, most software are installed in the office pc.
Support staffs can provide remote support as if they were sitting in front of the machine.
Take a client through a training by controlling his / her machine.
No doubt, remotely controlling another machine has become an essential and useful requirement for many people. Because of this demand, many remote desktop solutions have emerged in the market today.
The following list are 10 free remote desktop software for telecommuters to utilize and benefit from. Note that this list is not sorted according to any preference.

CrossLoop simplifies the process of securely working with friends located in different physical locations and across different network environments. CrossLoop enables you to see the screen and control the mouse and keyboard on a remote computer. It is as if you are working side by side at the same PC. You can get up and running with CrossLoop in under 2 minutes. Simply download and install the application and it will automatically configure itself to your network environment.

SkyFex Remote Assistant is an online web based remote support service that allows watching and controlling a  remote computer in real time. This is a secure service which provides best remote support solution, does not require additional software installation and configuration and works transparently through proxy/firewall and NAT networks. SkyFex is a web based service and requires only the Internet Explorer to run it.

Use Yuuguu to meet online and travel less – best for telecommuters. Hold online meetings, share your screen and work together on the same documents in real time. When using Yuuguu with other Yuuguu contacts, all data is 128-bit SSL encrypted end to end which is the highest level of encryption generally available. When sharing a screen using Yuuguu, screen sharing data is never stored on the servers thus providing maximum security. Some key features of YuuGuu includes screen sharing, instant messaging, conference calling, remote desktop control and others.

LogMeIn Free version allows users of both PCs and MACs fast easy access to a computer remotely from anywhere for free. Some key features includes accessing from browser or a wireless PDA, remote control and desktop viewing,syncing clipboard with remote computer, chat, multiple user access and most importantly the various security features.

UltraVNC is a powerful, easy to use and free software that can display the screen of another computer (via internet or network) on your own screen. The program allows you to use your mouse and keyboard to control the other PC remotely. It means that as a telecommuter, you can work on a remote computer, as if you were sitting in front of it, right from your current location. If you provide computer support, you can quickly access your customer's computers from anywhere in the world and resolve helpdesk issues remotely! With addons like SingleClick your customers don't even have to pre-install software or execute complex procedures to get remote helpdesk support.

TeamViewer is a solution for fast, easy, and secure desktop sharing: TeamViewer lets you access your friend or colleague's PC or transmits your screen to your him/her for both to view the easy way, without having to configure your firewall. You can remote control a partners desktop to give online assistance, or you can show your screen to a customer – all without worrying about firewalls, IP addresses and NAT. All versions feature completely secure data channels with key exchange and AES (256 Bit) session encoding, the same security standard used by https/SSL. TeamViewer is free for all non-commercial users!

Desktop Share is a free remote control / remote help desk application (similar to LogMeIn Rescue or GoToMyPC) featuring no installation, small size (230KB), gets through firewalls and is customizable making it perfect for technical support companies. Desktop Share allows another user to take control of your keyboard and mouse and view your screen. No installation is required – just Run the executable. You can even host the service on your own web server. The key point – Desktop Share is customizable: you can rename it, rebrand it and choose autoconnection options.

NoMachine NX is an enterprise-class solution for secure remote access, desktop virtualization, and hosted desktop deployment built around the self-designed and self-developed NX suite of components. Together with easy-to-use management, deployment, and monitoring tools, NoMachine NX makes it possible to transform any traditional desktop computing environment into a centrally managed, globally accessible, virtual desktop infrastructure.NX security is guaranteed at every layer involved in the communication process. NX allows you to run remote X11 sessions even across slow or low-bandwidth network connections, making it possible to start sessions from clients running on Windows, Linux, Mac OS X and Solaris platforms to servers running, at present, on Linux or Solaris.

TightVNC is a free remote control software package derived from the popular VNC software. With TightVNC, you can see the desktop of a remote machine and control it with your local mouse and keyboard, just like you would do it sitting in the front of that computer. TightVNC is free, gpl licenses, cross platform for both Windows and Unix. TightVNC is alsofully compatible with the standard RFB protocol used in VNC, so you can use TightVNC viewer with the standard VNC server and vice versa. But note that protocol enhancements implemented in TightVNC will work only if these enhancements are supported on both sides of the connection.

Royal TS allows you to connect to other Windows machines using RDP* (Remote Desktop Protocol). Enjoy a simple and easy way to organize, connect and switch between remote desktops. If you are a system engineer or administrator responsible for managing multiple servers, Royal TS will make your life much more easier. You can use Royal TS to open a remote desktop session in an external window or open a session embedded in the application window. Royal TS allows you to organize multiple remote desktop connections in one single file.
——————— End ———————-
Hope you will benefit from these free remote desktop software. Enjoy!