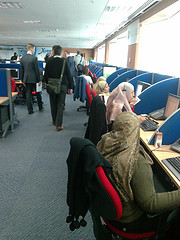 Do you sometimes wonder why some organizations are better at handling phone calls over the others? photo credit: markhillary
I have experienced calling to certain companies and was greeted immediately via my first name while some calls to other companies were passed on and on till the line got disconnected.
Some pleasant and frustrating experience I would say!
A bad experience with the customer call center usually indicates that the organization is not customer friendly, inefficient and unreliable.
All customer call centers should be treated as mission critical since it provides the organization an initial opportunity to provide an existing customer or potential customer with a lasting good impression.
One unpleasant treatment when a customer calls in, and we can wave good bye to the him / her.
The functions of a call center have never been easy. This is why organizations deploy advanced call center solutions to help call center agents handle calls more efficiently and effectively.
With a call center solution, the support team get the following benefits:
Track call durations, etc.
Recognize a caller prior to picking up the call.
Callers can select their intended call purposes, for e.g. phone banking or general queries
The call center solution basically provides additional insights not just for calls but other forms of communications as well such as faxes, emails, sms, web form, etc.
If your organization has the need for a solution to help manage and automate business process when it comes to contact center or enterprise customer support, then this advanced open source call center solution called StarPound may just be the right solution for you.

StarPound is a free and open source software for unified communications and business process management.
Its core products include StarPound Core, the engine of the software and StarPound Studio which allows business processes to be modeled.
The StarPound Call Center is created specifically to address the needs of a complete contact center.
Using the StarPound Studio, analysts can easily connect to back end systems such as CRM and HRMS via SOAP and REST for call center agents to consume.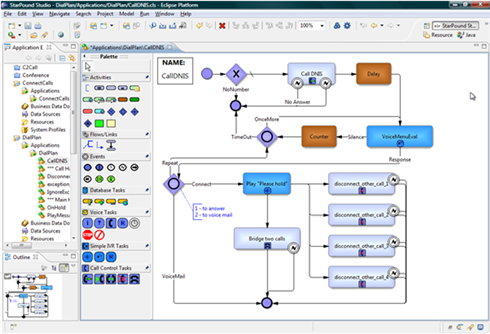 A key capability of StarPound is its ability to integrate with most types of communications such as telephone, sms, email and even chat (Jabber server).
The other thing worth highlighting is with Starpound's software, you won't need to have a hardware switch because the platform provides the switching in the software layer which takes full advantage of the mechanics behind VOIP and SIP technology.
Some key features of StarPound Call Center includes:
Multi-Channel – Voice, email, web, pda, fax
Computer telephony integration
Skills based routing
IVR – Voice self service
Rapid Deployment – 50% less cost. 90% reduction in time to market
Also check out this post on Sneak Peek at StarPound v1.3 (25 April 2010)
For more details on how StarPound Call Center can help your organization provide an integrated and end to end unified communications experience to both internal and external customers, check out StarPound today!