SharePoint is all about facilitating the sharing of documents. SharePoint is easy enough to understand and use but there is still tedious work involved when scanning piles of documents into the computer, indexing and then organizing them properly. photo credit: [email protected]
Fortunately, technology has taken care of this problem – all you need is a decent SharePoint document scanning application to speed up the process. While there are many products available, I highly recommend Dark Blue Duck (a funny name but nonetheless brilliantly effective).

Dark Blue Duck has a Scanning Enabler tool which enhances Microsoft Office SharePoint Server 2007 (MOSS) and Windows SharePoint Services 3.0 (WSS) support for paper based processes. It allows you to scan documents directly to SharePoint without leaving the SharePoint user interface. You can then use SharePoint's search feature to find your scanned document.
The challenge posed by paperwork is especially overwhelming in the legal and health profession. Of course, size and diverse geographical locations of your business add on to the problem. The larger your organization, the more complex the Enterprise Content Management and search capabilities needs. But Dark Blue Duck works well with MOSS to help you stay on top of the situation.
Some outstanding features of Dark Blue Duck include automated desktop deployment, scanning functionality to new and existing SharePoint document libraries and lists, Microsoft Office Optical Character Recognition (OCR) to create searchable documents.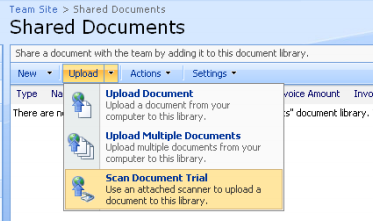 You can centrally manage scanning preferences to obtain the best possible scan. For photos and most documents, set the scanner's resolution between 200 and 300 DPI (Dots Per Inch) for a crisp scan that can be printed or uploaded. If you are not printing, setting a lower DPI will suffice. You can also specify content type, zonal template and document format in pdf/a, mdi, tif, jpg and gif.
Dark Blue Duck is also compatible with Windows SharePoint Services V3 and Microsoft Office SharePoint Server 2007 indexing and search. It supports image stamping, multilanguage, custom metadata capture and workflow as well all Microsoft SharePoint server farm architectures.
Whether you are using desktop scanners, shared scanner or network Multifunction Printers via TWAIN, Dark Blue Duck makes SharePoint document scanning seamless and efficient.
Dark Blue Duck has incorporated support for network scanners. Multifunction Printers can now be connected directly to Windows SharePoint Services V3 and MOSS 2007.
A "Routing Coversheet" ensures that scanned documents are routed to the correct SharePoint list item or the correct SharePoint Document Library folder.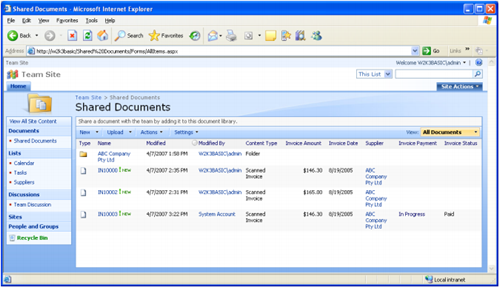 There is also a trial version which you can download after registration to get a first hand feel of the Scanning Enabler. Once you install the software on your SharePoint servers and computers, you will have a new scan document option in the upload button. This takes you to custom page for uploading and sharing documents to SharePoint.
The Dark Blue Duck Scanning Enabler is easy to install and uninstall. You can check out Scanning Enabler v4.XTM Product Page to review their screencasts. I find their screencasts are helpful and easy to understand. If you have any queries, there is professional implementation support provided by email and phone.
Try out the Dark Blue Duck's Scanning Enabler application today and you will no longer find scanning and managing scanned document a nightmare.