Success in the corporate world today is all about working smart and becoming more productive. In this respect, Socialcast is a highly recommended tool to power your business by facilitating closer collaboration among your workers and optimizing human resources.
Even if you are not in the office, you can stay up to date with your team by uploading documents, presentations, photos and links. It is easy to post messages, status updates, ideas and questions to the company network and get real time comments from your colleagues. Your frequent contributions may even catch the eye of the CEO and fast track your promotion.
In the past, businesses are built around distinct information silos which do not share important data amongst other departments. Socialcast removes this barrier using Activity Streams to unlock daily operational information and making it instantly available across boundaries.
With Socialcast, there is now a social dimension to enterprise collaboration as people, data and applications are united in one central virtual interface. This cut inter-department red-tapes and increase productivity.
Many corporations, when expanding aggressively through mergers and acquisitions, fail miserably due to a lack of synergy. Using Socialcast, you are able to achieve better integration and efficiency of various departments, all working towards a common goal.
The microblogging feature in Socialcast eradicates the frustration of reading and clearing cluttered email boxes from the deluge of information within the organization. There is also no spam to worry about.

Like Friendfeed, items that are discussed a lot stay on the top of other messages that make it easier to follow popular topics. If you are still overwhelmed by vast amount of data being generated, you can organize messages with tags and flag posts for follow-up, ensuring that you access the most relevant information easily when you need it.
Socialcast also let enterprise customers label products for corporate branding. For example, when signing a new customer, the service could link to external websites and pull information from it. Users can also link their accounts to Delicious, wikis, bug tracking system, RSS feeds and blogs.
Socialcast connects you to the pulse of a company but still give you control over the information deluge by un-following certain users. It is like a private Twitter but with better administrative controls for a workgroup app.
Admins can hook the system into an enterprise directory service, and ensure new members joining a workgroup are automatically subscribed to relevant workers in the company.
Besides nifty features, Socialcast scores impressively on looks. Its blue colored interface over white background gives a professional appearance to visitors. The logo is simple and not too flashy.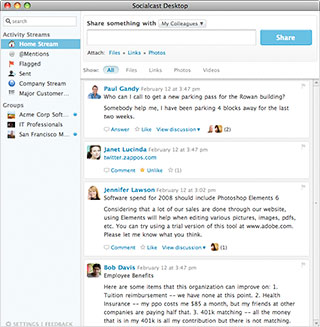 Its navigation tabs are prominent so that visitors do not lose their way while browsing internal pages of the website. The content, especially benefits of the application, is well written, which further supplements credibility and understanding.
Socialcast has an easy sign up procedure, which requires users to fill in general details including, first and last name, a valid email address, company name, Zip code and contact number. After which users can create their own community. The private communities allow employees to forge closer bonds.
The first five members of any new community can join the website for free, and any new entrant after that need to pay a preset amount on monthly basis. Though there is a usage fee involved, it is well worth the money if your company becomes leaner and meaner.
Overall, Socialcast is a neat and lightweight product for all types of business. Through this platform, professionals can share their knowledge regardless of geographical limits. Any crucial issues can be discussed and resolved quickly and lead to successful completion of projects ahead of time.
If you have not tried Socialcast, you should checkout the microblogging collaboration app for enterprise today!