Do you or your colleagues use Twitter to keep people updated with what's going on with your life?
Many celebrities use Twitter to keep their fans updated like where there are currently and what they're currently working on, etc. Whenever they tweet a new message, their followers (fans) would be the first to know about it and get a chance to respond or even retweet the message to spread the word around.
In the corporate world, some organizations use Twitter to keep their stakeholders up to date with the latest events and announcements.
For example, a project manager could get his project workers to follow him via his tweets so that whenever the PM has something new to announce with regards to the project, he can just tweet the message and his followers (project team members) would know about it first hand.
It's just like sending an SMS to all your team members but it's a cheaper and faster alternative.
Another example would be a company keeping their potential customers updated via Twitter whenever limited coupon / discount codes are released.
Although some organizations use Twitter services to their advantages, some see Twitter as a general time waster where the IT team decides to block their Internet users from accessing Twitter's website altogether.
The reason? Some employees may be spending way too much time tweeting personal related messages rather than for work related purposes.
If your organization has blocked access to Twitter and you have valid reasons to convince your boss that microblogging can help everyone in office to become more productive, you might want to suggest this free and open source microblogging software called StatusNet.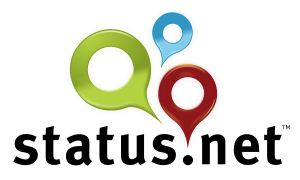 StatusNet is an open source microblogging platform that helps you share and connect in real time within your domain.
With StatusNet, the IT team can download and install this software in within the organization's internal network domain.
This means that all messages and information resides within the internal network rather than being hosted by an external party.
StatusNet is still in beta version for now.
I've given it a try and this is how it went.
Firstly I downloaded StatusNet, and uploaded the files into XAMPP htdocs.
Ran the installation, created a database (MySQL) and in less than 2 minutes, StatusNet was installed without any problems.
Running it for the first time, this is what I saw.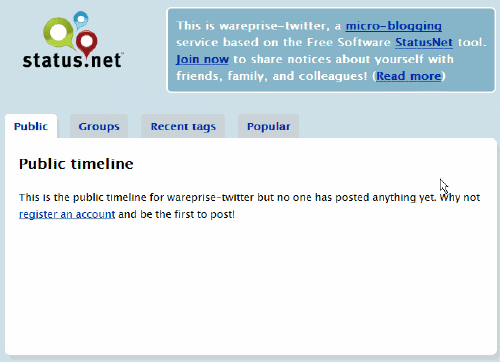 Note that I named my installation as wareprise-twitter and as you can see the public timeline is empty because no one has posted anything yet.
So I went ahead by registering the very first user called Bob.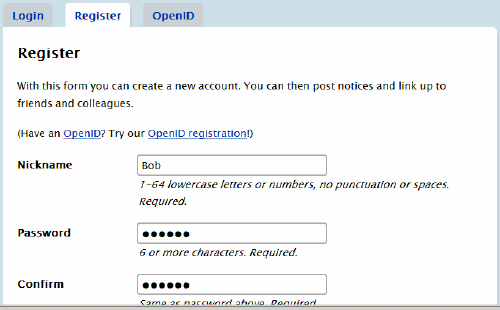 Once completed, I can now log in as Bob to post the very first message.
Basically StatusNet works about the same as any other micro messaging sites out there. I guess the only big difference is that StatusNet is open source and can be hosted internally within your network.
StatusNet's platform also allows you to add on additional features such as posting messages from your phones and integrating with other sites such as Facebook and Delicious.
With this open source microblogging software, you can now convince your IT decision makers to host StatusNet so that everyone within the organization can begin updating work statuses, achievements, and where they are going for lunch. 🙂