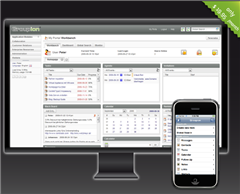 We have heard of web based collaboration tools such as TeamLab and Huddle. Web based CRM tools – Salesforce and SugarCRM. Web based ERP – OpenBravo and OpenERP.
What about one that combines all three key functionalities under one web based app?
Well, if you haven't heard of it, it's called Groupion – a web based SaaS Groupware (FREE for 5 users and below) with CRM and ERP functionalities.

With this web based Groupware, you and your team members can collaborate and communicate while managing customer and stock details.
Groupion's key features include:

Case Management
Task Assignments
Shared Calendar
Email Access (via Pop3 & IMap)
Newsletter Management
Lead Management
Customer Management
Campaign Management
Stock Management
Transaction Monitoring
Procurement Management
Reports
File Repository
Filtering and Search
I personally gave Groupion a try and found it to be a neat and user friendly tool.
All the necessary function were on the left menu so it didn't take that long to figure out the entire navigation.
The ERP functions within Groupion mainly allows you to manage stocks, procurement and suppliers which at the same time provides a tight integration with CRM and Collaboration module.
Below is a screenshot of the portal workbench – a dashboard view of your important information which can be easily personalized based on preference.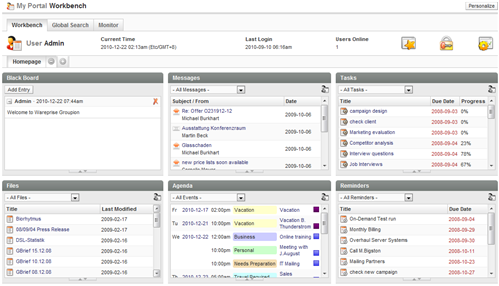 For organizations that require the ability to further improve or add on Groupion features, this can be achieved via the iXML – an XML based programming language which is designed specifically to allow technical users the ability to cuztomize and extend Groupion.
If you ask me what's Groupion's key strength, it's definitely the architecture / platform which allows the web base app to be further modified and enhanced, giving it an edge over it's competitor. See iXML DevCenter.
For SME and startup companies, Groupion is a great tool to begin with since it allows your employees to communicate, manage daily tasks, schedule on shared calendar and most importantly manage customers and business development all under a single tool.
Since it is web based and fully hosted by Groupion, you can forget about having to purchase servers and managing all the technical server maintenance work.
Just sign up for an account, and with just a browser connected to the Internet, your entire organization is ready to begin using the groupware from day 1.
For more details on this web based SaaS Groupware with ERP & CRM functions, check out Groupion today.