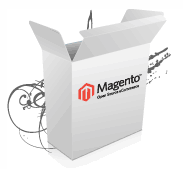 I've always been asked… what's a good and free open source e-commerce software to implement?
Nowadays, more and more retailers are trying to build e-store to showcase their products online. Some are just happy to be able to display the varieties of products available for sale on their site while some go the distance to provide the ability for their customers to purchase from their online store.
So when it comes to starting off an online store, most retailers are not willing to spend much on developing a sophisticated online store. They just want the ability to easily upload images and prices of their store products. With this simple requirement in mind, the following are the top two php based open source online merchant software available for you to implement right away.
1. Magento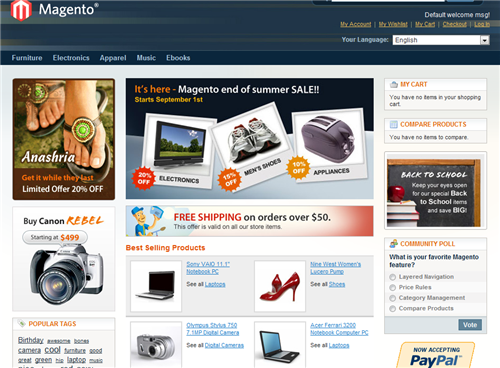 The first thing I realized when I visited Magento's site is it's cool and neat design. Looking through the demo site, I'm amazed by the available features and how professional the store looks.
Somehow it makes me want to buy stuffs from the page! In summary, these are some of Magento's features:
Wishlist
Product Browsing
Catalog Management
Shap by Price and Category
Order Management
Payment Management
Site Management
Search Engine Optimization
The best feature with Magento is the search engine optimization capability where it displays the name of your product as part of the url. This helps your unique products rank higher within search engines.
2. OSCommerce

Did you know that OSCommerce has been around for quite a long time. Since they started, there are already about 177,000 store owners on OSCommerce. Some popular stores are TruffleShuffle and LinuxUk.
The best thing about OSCommerce is the vast availability of templates to download for free or purchase. You can get a professionally design template for less than $100 and have your store up in less than a week. The downside of OSCommerce is its lack of support for SEO. You may need some 3rd party component in order to have SEO optimized URLs. Other than that, it's another fine open source online merchant software.
My two cents
To save you time on researching for which online merchant software to go for, simply start off with these two and evaluate which of these two software suites your store best. All the others out there are good too but I feel that currently both of these software are neck to neck in terms of capabilities and reliability. Best part, it's free… you just need to spend time implementing it or simply hire someone to do it for you. Happy setting up your online store!