We know it. Creating a website can be extremely time consuming. Especially if you don't have basic programming knowledge.
Luckily for us, there is GetResponse. The online marketing services platform that has helped grow more than 100,000 businesses (That's a lot of businesses!).
With their newest tool, the Website Builder, they offer us the possibility of designing our own website in simple steps. No headaches and free of coding. Did I say headache-free?
It is as simple as selecting a template that is to our liking and using its drag-and-drop editor, to start creating our unique design.
GetResponse Website Builder Video Introduction
Introducing GetResponse's AI-Driven Website Builder | Create your Website for FREE
AI-Powered Website Creation
One of the most interesting options offered by them is the possibility of interacting with an AI assistant, who has the ability to create a website after receiving the answers to a minimum series of questions about the type of business we own and the type of website that we would like to build.
For this example, we have used a default template, which took us no more than a minute to get ready for editing. We believe that it is an excellent option for entrepreneurs looking to have a website with a professional and aesthetic appearance, working quickly and easily. Let them do the hard work while you focus on the true strengths of your business!
Built-in Website Popups
We have talked to you about converting your visitors into customers. We believe that their "website pop-up system" can greatly improve this process, attracting the attention of your readers with special offers and sign-up forms, configured by yourself.
As we always say, everything in moderation is good. Don't try to send your visitors a pop-up window every five seconds, unless you want to scare your audience away.
Buy the right domain in a simple way
If this is your first time hearing this word, a domain is basically a unique name that all websites have. It is like the identification document of our website located on the internet. There are a lot of companies that offer a domain registration service, to start building your online presence. Besides going for a free domain name, GetResponse also allows us to get our own in the same place, which is something that we appreciate.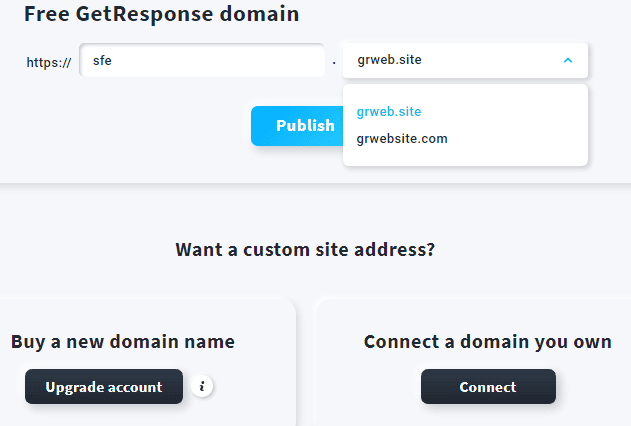 Performance Analytics
They also provide us with performance analysis, to observe the number of visits and clicks that we are receiving. "Everything measurable is improvable" my grandfather used to say, and that phrase could not be more true (just kidding, he wasn't that wise. But hey! It's one of the most important rules of running an online business).
Mobile-Friendly Website
Did you know that the number of smartphone subscriptions worldwide today surpasses six billion and is forecast to further grow by several hundred million in the next few years? It seems that this company knows what it is doing since all the pages created in it are optimized to look good on any smartphone.
Website Builder Pricing
GetResponse offers us four packages, each one with its own unique features. We want you to take into consideration that if it is the first time that you are starting a website, you can try their 30-day trial, to check out how it works.
We made a trial account to test its function, and they didn't ask us for any type of card or means of payment, which speaks about the confidence that the platform has in itself.
What is the difference between each of the plans?
If you plan to make a simple website, you could choose the Basic Plan, which already includes everything needed to start working on the internet.
However, if you are planning to do webinars, let's say for a course or a conference, you should check out the "Plus Plan", the "Professional Plan", or the "Max Plan" since the Basic Plan does not include this option.
Another important thing we noticed is that each package makes managing your team a lot easier. As you go up, each plan allows having more users on the same account, in contrast with the Basic Plan, which only allows one user.
Finally, you'll find more complex automation for your autoresponder sequences as you scale between plans, along with the ability to access more automated sales funnels.
Pros and Cons
Pros:
Easier to use than its competition
Mobile friendly
Drive traffic: you can check your Google, Instagram, and Facebook ads directly from your web account.
Performance analytics
It includes other services, such as email marketing, to increase our sales.
Cons:
Demo on how to create a website
Build a website for your business EASY & FOR FREE with GetResponse's Website Builder!
Is this tool for you?
We recommend this tool especially to people interested in designing your very own website. This tool offers a wide range of automated services, which can greatly facilitate the operation of your website and save you a lot of time.
Of course, you can use the website builder to create any landing page, but if you're planning on providing an online product or service, we believe that they have a lot of value to offer, especially for improving your funnel conversion rates.
If you're also interested in automating your marketing campaigns, we have found that this tool provides a much user-friendly design than many other tools that you could find out there, which is a huge plus.
In conclusion: why you should create your website now?
Since the COVID-19 pandemic, we have seen more and more businesses begin to digitize. That includes your competition. Having a landing page helps you to give your business more visibility, allowing you to tell the world what we have to offer, from the comfort of our home.
We find it refreshing to find a tool capable of facilitating the creation of a website, and that is willing to offer so many services capable of speeding up the conversion of visitors into potential clients. That is why we wanted to share this with you.
Regardless of the website builder tool you choose, we hope that you will be successful in your new endeavor and that you get started as soon as possible!
Time is money and we entrepreneurs know it more than anyone.
GetResponse Website Builder