The pressure is on.
More than ever, customers expect smooth, instantaneous digital experiences. With shrinking attention spans and growing competition, businesses need to take user experience seriously.
This is particularly pronounced in the e-commerce industry, which saw a staggering increase of nearly 34% in 2020. It's now apparent that the pandemic has changed retail permanently, and at the same time, many other aspects of life have gone digital. Working from home moved functional responsibilities, communication, and collaboration online. Even simple self-care practices evolved into global group fitness classes, virtual happy hours, and social meetups.
For those providing goods and services online, this is all good news; opportunities abound to reach a bigger market. But it's not enough to simply be present. In a digital marketplace, the competition is just a click away, and customers have high expectations that everything will work perfectly and immediately, every time. It's up to you to meet and exceed those expectations with your digital experiences.
What is Performance Monitoring?
Application performance is critical to customer experience. By monitoring performance in real-time, you're proactively understanding and addressing your customers' needs. If you're relying on your user to tell you how your application is performing, chances are you've already lost them.
Your customers aren't going to report every latency or frustration they experience with your application. Sluggish page loads and layout shifts will quickly start to bother people and even cause them to look elsewhere. Even in the case of the error reports you do receive, the reality is that your customer has already experienced frustration.
Taking a proactive approach not only helps you serve your customers better (not to mention, increase retention) but can streamline your workflows and clarify priorities. Application monitoring will help you identify issues before they become problems, and often before your customers even experience them. These tools give you clear, actionable insights into your application's performance so you can identify ways to optimize your product.
So, what should you look for in a modern software monitoring tool? Here are 5 key features of a comprehensive solution.
1. Full-stack Monitoring
There are many contributing factors to end-user experience. While your customers may only consider the interface or direct experience, you (and your developers) know how much goes into creating and maintaining it. To truly understand your application's performance, you need an overview of your full-stack.
Full-stack monitoring gives you a complete picture of the cause and impact of performance issues. You'll be able to correlate metrics and deliver clear insights to the relevant teams in your organization. But don't worry, you won't have to parse the data across application, infrastructure, and transaction metrics – these tools will do it for you and deliver an actionable directive on just how to reach a resolution.
2. Customer-Centricity
A decent software monitoring tool is built on maximizing customer experience. While it's the development team actually utilizing the tool, its outputs should all be focused on the perspective of the end-user.
Triage Support Requests
Choose a modern software monitoring tool that helps you to prioritize support requests quickly. Your dashboard should give developers a clear and actionable insight into crashes, errors, and performance issues, but also show you the who and the why involved. Rather than forcing a customer into a long back-and-forth for problem-solving, your monitoring tool should allow anyone to search for and replicate the session to see just what went wrong.
See the Experience of Real Customers
The tool you choose should also allow you to view errors on a case-by-case basis. Tracking issues to real customers allows you to prioritize time and resources by viewing raw data, stack trace details, and more. You'll also be able to see a list of customers affected by an error and view customer sessions that encountered the issue. This will give you greater insight into customer usage of your so, and greater clarity on how to address problems.
See Performance Trends
Performance is the backbone of user experience. When you're looking to optimize your software from a user-centric perspective, insights into performance trends are crucial. Rather than looking at load times from a high level, choose a tool that lets you drill down by user sessions to see which customers are experiencing slow load times, and why. Performance monitoring clearly maps the front-end performance of your software and delivers trends across web properties.
3. An Intuitive UI
Monitoring tools can report a huge wealth of data, which can be overwhelming to sift through to pinpoint a specific event.
Digging through this data is not only time-consuming, it relies on your ability to understand and identify what you need. A powerful tool needs an intuitive UI to present information in a meaningful way. A clean and clear UI reduces the learning curve, meaning the relevant people in your organization can access the data they need.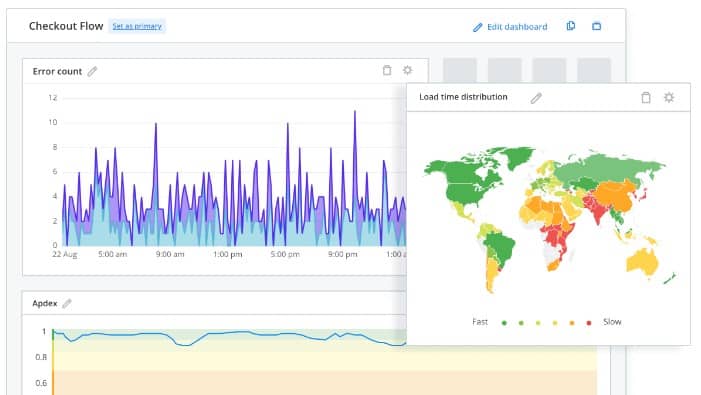 4. Clear Answers
Your software monitoring tool should give you clear insights that you can act on fast, directing you to the root cause of issues. An alert that something has gone wrong somewhere doesn't help. 
The true objective of a software monitoring tool is to go beyond merely monitoring what's happening on the surface, helping you drill down to the origin of an issue. This ensures that you can respond immediately without making your developers parse information and dig for the answers. You want a map, not a scavenger hunt.
5. Affordability
You don't need to pay huge rates to bring new insights into your business. The metrics of monitoring are, by nature, bound to have some fluctuation. A software monitoring tool should be affordable and scalable, charging by usage so that the amount you pay is directly tied to the value you're getting, and allowing you to expand as you need. With the right insights into the performance of your software, you'll be able to increase customer retention and loyalty, and ultimately grow your business. It's a worthwhile investment to increase word-of-mouth and visibility, and safeguard the quality of your digital offering.
Closing
Monitoring is increasingly recognized as a necessity to compete in an unforgiving digital market. While selecting the right software monitoring tool for your business may seem an overwhelming task at first, the key criteria above will help you to make an informed decision to deliver exceptional results for your customers and your bottom line.
Grab your free 14-day trial of Raygun Application Performance Monitoring today.
Four powerful Alerting workflows with Raygun