Being collaborative web-based workflow solution, Comindware Tracker also combines an impressive number of highly helpful business tools. This project management software has integrated task management and issue tracking features that allow business owners not only organize working process more efficiently, but also cut on the expenses.
Comindware Tracker provides its users with completely secure collaborative workspace for automating, organizing and managing all kinds of projects, tasks and activities. Due to its incredible flexibility this solution enables you having complete control on every single aspect of your business. The system comes with pre-designed functional workspace solutions for such areas of your business as:
Software Development;
Human Resources;
IT Help Desk;
Office Management.
Each of those Workspaces provides an environment that already has workflow templates and other helpful features ready for you to use. For instance, Comindware hr solution offers automated workflow templates for such hr activities as: hiring and termination, vacation or leave of absence requests, retirement and firing and many more. And if you need project management solution for, let's say, your marketing department then all you have to do is customize pre-existing workflow templates or build new ones, which is quite easy to do thanks to user-friendly visual interface and drag-and-drop icons that Comindware uses in its products.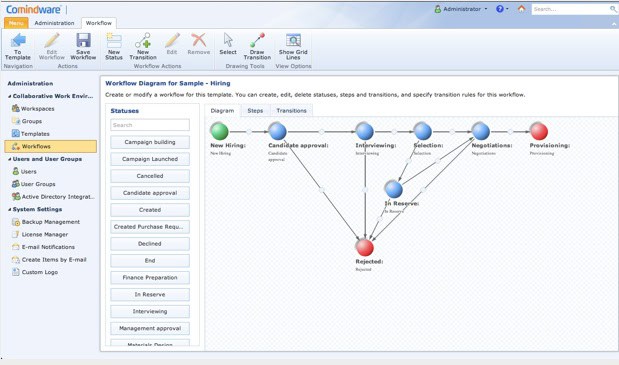 Using Comindware Tracker multiple departments and teams can collaborate on the same project within one system, and here are some of the major features that make the Tracker such an efficient business tool:
As it was mentioned,Comindware Tracker also offers free Comindware Task Management. Thanks to this feature and its unique ConnectStep technology tasks can be generated automatically and assigned as tracked items progress from one step to the next. So while Comindware is taking control over the process and moving things along, team members can concentrate on executing their tasks.
Workflows allow automatically generate next-step tasks, and Comindware Tracker makes it incredibly easy to build workflows for every single one of your projects. Thanks to graphical workflow builder that provides interactive drag-and-drop controls you will be able to create workflows from scratch and customize them without having to wait for an IT specialist to help you design and automate workflows so they would work the way you want them to.
One of the most notable features of Comindware workflow software is its breakthrough flexibility. Due to the ultra-flexible ElasticData technology you are enabled to adapt your workflow processes at any stage of the project. That feature allows starting projects with minimal formalization of workflows and it enables to easily make changes in them according to the needs of the project at the time being. With this workflow management software you don't need to formalize everything beforehand or interrupt current activities in order to deploy new processes.
This feature will allow you to bring more visibility into the process, and since the system is web-based you will be able to check up on your team and track their progress from any place that has Internet connection.
Collaboration within Comindware Tracker is carried out via centralized discussions, comments and file sharing. Workspaces provide users with a collaborative work environment where they can track issues and manage tasks, discus projects and tasks and have access to documents, templates and media files. The system allows attaching discussions and all sorts of media files right to assigned tasks, which makes it easier for managers to communicate with their employees, especially those who work from home.
With reporting and notification features that Comindware Tracker provides you will be able to keep all the tasks from missing the deadline. The system also allows setting notifications to follow not only tasks and issues, but also discussions and file changes.
One of the Comindware unique features is patent-pending integration with Microsoft Outlook that allows users to work and collaborate with tasks directly within Outlook.
Though Comindware Tracker is an epitome of user-friendly software, itsscalability and security are enterprise-grade.  You can set up different security rules for eachWorkspace, project or department.
Filtered list views offer real-time priority-, status- and deadline-based views of tracked items so you will always know what's going on with every single one of your projects. Reporting and analysis in Comindware Tracker are easily managed thanks to graphical dashboards that provide convenient charts and lists and extensive sorting features.
With Comindware workflow process automation,collaboration between different departments and issue tracking can be handled within a single web-based system, which not only saves your time and company's money, but also allows working more productively and efficiently.
A guest post by Olga.