A Must: The Complete ITIL V3 Readiness Assessment Kit

In the last post, I talked about the key differences between ITIL v2 and ITIL v3. While researching on ITIL v3, I stumbled on this site called The Art of Service.
The Art of Service is authorised by the Examination Institute EXIN to act as an examination venue for specified Examinations provided by EXIN and they have a dedicated development team that consists of IT Service Management Professionals with over 20 years of experience.
Browsing through the site, this advertisement popped up: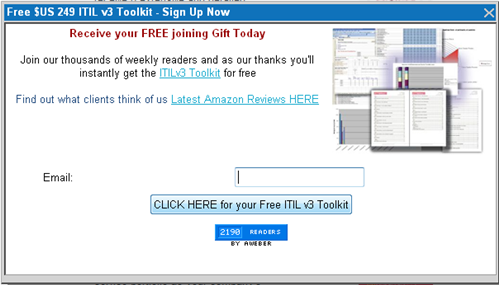 I was supprised to see that the ITIL v3 Toolkit that I used to promote is now available for Free. This material is worth $249 if not given out free. Without hesitating I entered my email in the textbox above. Moments later, an email which required my verification reached my mailbox. Verifying the mail allowed me to proceed to download the free ITIL v3 Toolkit.
The ITIL Toolkit is nearly 40mb in size and has the following key resources in the zipped file:
ITIL v3 FACT SHEETS [Folder] 

ITIL v3 READINESS ASSESSMENTS

[Folder]

THE ITSM REFERENCE SHEETS

[Folder]

THE VERSION 3 BRIDGING KIT

[Folder]

ITIL ITSM PROCESS ASSESSMENT AND MATURITY SCORE

[Folder]
ITIL IT Service Management Beginners Guide v7.2 [Word Doc] 

Toolkit Roadmap – ITIL v3 Starter Kit

[Word Doc]

Toolkit Introduction Presentation – ITIL v3 Starter Kit

[

Powerpoint

Doc]

Presentation  ITIL Service Management Practices Executive Overview

[Powerpoint Doc]
Looking through each of these resources, I realized that the content is rich in ITIL information and is suitable not just for the ITIL implementors but for managers and salespersons as well. I find the best resource to be the ITIL Service Management Practices Executive Overview since the powerpoint format presents ITIL in a graphical and logical format making it easier to grasp and understand as compared to the other resources which are filled with text and jargons.
If you're into ITIL and planning to do some work on it, wait no more, head on over to The Art of Service to get your very own ITIL v3 toolkit while it's still available for FREE.
Accredited ITIL® training is provided by THE ART OF SERVICE, an EXIN Accredited Training Organisation
* Updated 28 Jan 2010
Sorry guys… the free ITIL V3 Toolkit has been replaced with an eBook entitled "ITIL V3 Implementation Quick Guide – The Art of Stress-Free IT Service Management". Still a good read, so make sure you grab it by subscribing to their newsletter.
* Updated 13 Feb 2012
Checkout this free IT Readiness Assessment Tool by Info-Tech, Click on the screenshot below to proceed.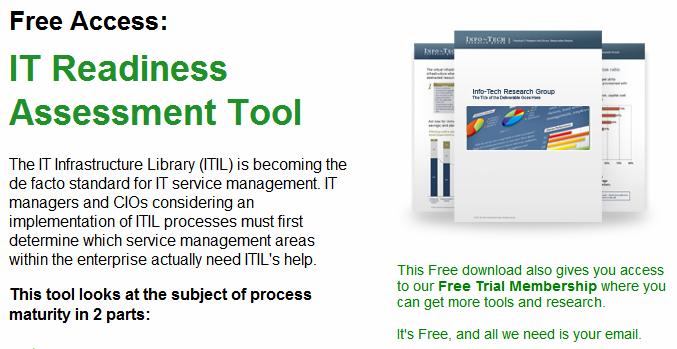 * Updated 12 Apr 2016
ITIL® v3 Foundation Study Guide