Has your team ever encountered a problem and can't figure out what's the real cause of the problem? It can be really tough to solve a particular problem without first identifying all the possible causes to the problem.
Mr. Kaoru Ishikawa created the Cause and Effect Diagram in 1943 and from then on many have used the Ishikawa diagram also known as the fishbone diagram to:
Identify and define the root causes of a problem
See clearly the relationships between the various causes
Provide a starting point to discuss potential fixes to a problem
In some organizations, whenever they encounter problems, they would quickly attempt to douse the flames only to realize that new fires are started elsewhere.
It's very important to put all the possible causes on the drawing board in order the see the entire picture of the problem. And one way to do this would be to create a fishbone diagram that can be viewed and used to attempt to solve the problem.
The best way to create a fishbone diagram would be to draw it on a board so that it can be brainstormed and discussed thoroughly before printing and distributing the diagram.
Once the fishbone diagram is finalized, it can be easily drawn out using Powerpoint. But if you do not have Powerpoint, then there's this online tool called Creately which allows you to create a fishbone diagram online for free.
Creately is an easy-to-use online diagramming application that's built for collaboration.
To start off with Creately, you'll need to sign up for an account after which you can easily create a fishbone diagram simply by choosing a template.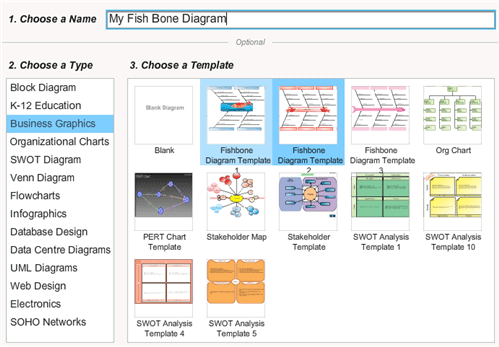 Once the Fishbone Diagram Template is selected, you can proceed to edit the effect/problem, categories, and possible causes by clicking on the default text and changing it accordingly.
I'm sure you get the idea of how you can use Creately to easily draw and publish your fishbone diagram. Although you can use Creately online for free, whenever you export the diagram as an image, a small Creately logo will be added on the bottom right of the diagram. If you would like the logo removed, simply upgrade the plan (a small fee).
So wait no more, check out Creately today and begin to create your very own fishbone diagram online.