Several months back, I wrote a post about how you can better manage paper receipts using Expensify.
Basically with Expensify, all you need to do in order to manage paper receipts is simply take a picture or scan it and send it over to your dedicated Expensify account and a digital copy of the receipt will be stored in the cloud.
For someone who has only a couple of receipts to manage, Expensify is a great tool to help you keep track of all your expenses.
But if you have envelopes of receipts from a couple of months back, snapping pictures of each receipt can be quite tedious and time-consuming.
Another disadvantage is that once the image is uploaded, you will need to manually enter details such as the date of purchase, merchant name, and price.
I've seen bosses giving stacks of receipts and papers to their secretary or clerks to manage and sum up for their expenses reimbursement purposes.
Their helpers would then manually scan the receipts via high tech devices such as NeatReceipts.
For those who aren't as lucky to have a helper to outsource this tedious task to, you can check out Shoeboxed.com – an alternative to NeatReceipts and Expensify.
Neatreceipts alternative = Shoeboxed
Shoeboxed.com is a service that is a great alternative to the NeatReceipts DIY idea.
Users basically just need to pay low monthly fees to send in their receipts, business cards and documents via mail or mobile phone, and the people at Shoeboxed will do the scanning, data extraction and verification for you.
Once done, everything is organized for you via an online account which you can access at any time. The expenses details in your account can also be easily exported to various formats such as PDF, Excel, CSV, Quickbooks, and Quicken file types.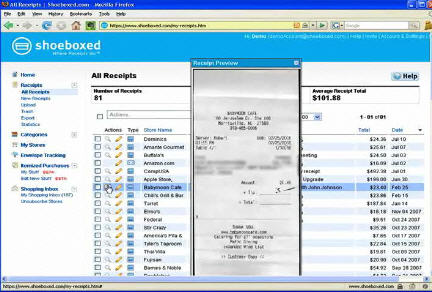 Some key benefits of Shoeboxed includes:
No need to purchase expensive scanners
No need to rely on your hard disk for data security
No need to waste time scanning and data entering documents
One key capability of Shoeboxed that I really like has to be its auto-categorization.
Let's say you frequently visit Restaurant X for lunches with clients. You can then link Restaurant X to the meals and entertainment category so that whenever there is a receipt from this particular restaurant, it's automatically categorized under the meals and entertainment category, saving you even more time.
For more details on how Shoeboxed works, check out this demo video below:
Here are Shoeboxed updated pricing (as of 1st June 2017)
Lite – $12/month (billed annually) or $15/month (billed monthly)
Classic – $31/month (billed annually) or $39/month (billed monthly)
Business – $55/month (billed annually) or $69/month (billed monthly)
Executive – $100/month (billed annually) or $125/month (billed monthly)
Here's a quick look at what Shoeboxed has planned for the next 12 months:
Instant processing for digital receipt submissions
Updated Android and iOS mobile app interfaces
Faster mail-in turnaround times (especially during tax season)
Expanded search functionality in the web app
Enhanced reporting and filtering
Like what you see? Then check out Shoeboxed.com – the alternative to DIY NeatReceipts today!
Also read how a Self-Employed Graphic Designer Audited by IRS for Not Managing Receipts: She Owes Thousands of Dollars