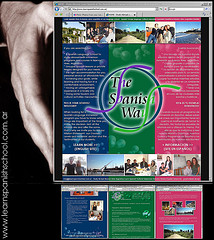 You've just completed a web page design and you need to save the web page to show it off to your client.
The simplest way to do this is to save the web page by clicking on
File > Save Page As for Firefox while
File > Save As for Internet Explorer
The page will be saved and all the images will be placed in an image folder.
The only problem about these saved files and images is that your client can view the source codes and have access to all the images once you send it over to him.
What you actually need is a way to allow your client to view the web page but at the same time not have access to the html codes and images of the web page. Photo by TheAlieness GiselaGiardino
One solution to this would be to convert the web page html into pdf format.
To do that, head on over to HTML to PDF Convertor – a  simple online tool to convert web pages to PDF files. With this tool, nothing needs to be installed on your computer. Best part, it's free and requires no registration!
To view a sample of how this post looks like after being converted to PDF, click on the following file – how-to-convert-html-to-pdf-a-free-online-tool.pdf.
So the next time someone asks you how to convert html to pdf? Just point him / her to HTML to PDF Convertor. Enjoy!