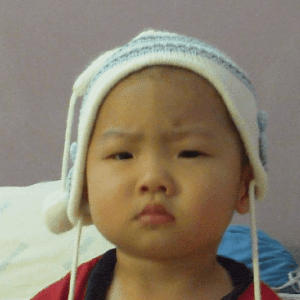 Check out the animated photo of the left. He is my 18-month-old son. See how I managed to turn his frowning face into a smiling face!
Cool ain't it? If you want to do the same, check out this free online tool called Cartoon Photo!
With Cartoon Photo! all you need to do is upload an image of a person then easily change his / her facial expressions with just a couple of clicks.
Need professional help instead? Check out Fiverr's Change Facial Expressions services.
Here's a video on how to change facial expressions online
How to change facial expression online
Features of Cartoon Photo!
These are some facial expressions you could select prior to processing the images:
Smile
Sad
Opps
Squint Eye
Troll
Wink
Flirt
Besides animation, you can also change the image to still images
          Selecting the tough guy option transforms a cute baby face into a tough guy like below.
          There are several ways you can use this cool tool:
Turn your angry-looking boss to a smiling boss. 🙂
Let your frowning friend see how good he looks if he smiles a bit more.
Send a funny-faced picture to a friend or family and make them laugh about it.
There are many ways how you can use this free online tool. But no matter what, do remember to have fun with it. Enjoy
Cartoon Photo
!
Besides Cartoon Photo, here are some other tools to try out!
1. Luminar Neo
With Luminar Neo's Face AI tool, you can easily enhance a portrait's face, eyes, mouth, and skin tone.
Some really neat features include:
Make face appear slimmer
Change the color of your eyes
Enlarge eyes
Remove dark eye circles
Improve eyebrows look
Whiten teeth
Improve lips redness and saturation
Remove face blemishes/skin defects removal
* For MAC users, Luminar Neo cost $126/year as a standalone app while Setapp offers 240+ apps at $108/year with Luminar Neo included.  Start Your Free Luminar Neo Trial via Setapp.
2. Animaker
With over 20 facial expressions, Animaker helps to bring your characters & video editing to life.
3. MugLife – 3D Face Animator (Designed for iPad)