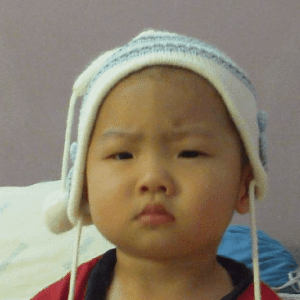 Check out the animated photo of the left. He is my 18 months old son. See how I managed to turn his frowning face into a smiling face!
Cool ain't it?
If you want to do the same, check out this free online tool called Cartoon Photo!
With Cartoon Photo! all you need to do is upload an image of a person then easily change his / her facial expressions with just a couple of clicks.
These are some facial expressions you could select prior to processing the images:

Smile
Sad
Opps
Squint Eye
Troll
Wink
Flirt

You can also choose to animate the image just the image of my son above. The speed of the animation can be set according to your preference.
There are several ways you can use this cool tool:
Turn your angry looking boss to smiling boss.
Let your frowning friend see how good he looks if he smiles a bit more.
Send a funny faced picture to a friend or family and make them laugh about it.
There are many ways how you can use this free online tool. But no matter what, do remember to have fun with it. Enjoy Cartoon Photo!