All business as well as home users who retain valuable documents and information on their computers should be aware, how important it is to have a reliable backup solution for disaster recovery situations.
There's a lot of free and commercial software on the market to choose from. However, from my personal experience, I know that there are only a few that can be relied on.
After some research and in-depth testing, I've decided to buy Acronis True Image Home (TIH) 2011 for my home and office computers, mainly for three reasons: functionality, reliability and on the fly system backup creation. It has already saved me twice from a disaster, so I decided to share my experience with you.
Here's a list of TIH 2011 features:
Disk and partition imaging
File backup
Incremental and differential backups
Acronis Secure Zone – secure partition that allows to store a disk backup on a system drive and recover on the fly
Acronis Startup Recovery Manager – Boot and restore a system after a failure
Email backup
Non-stop backup
One click protection
Online backup (5GB free storage)
Bootable recovery media  creation
Disk cloning
Converting Windows Backup to Acronis backup and vice versa
Privacy tools (File cleanser, shredder and system clean-up,)
Try & Decide
Image Encryption with AES
Live backups
Boot from Windows 7 image
Windows-style Interface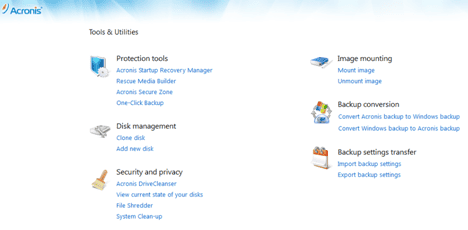 TIH offers  a vast range of scheduling options. Backups can be scheduled to daily, weekly, monthly or upon an event (user logon, user logoff, system startup, system shutdown)
Backup schemes that can be created with Acronis TIH 2011 include single version scheme, version chain scheme (program creates a chain of full and differential backup versions, and deletes versions older that 1 or 6 months) or a custom scheme.
Custom scheme lets a user choose a type of backup – full / incremental / differential and set an automatic cleanup mode in which the user can set up number of versions that will be kept, a maximum size of all backups or the time after which old backups are automatically removed.
Something that is not often found in a backup utilities, is the Try&Decide mode. When turned on,  TIH creates a sort of sandbox, in which untrusted programs can be installed securely, as no registry changes are allowed until the user has verified the software and accepted the changes to be made. This mode is also useful, if you plan to visit potentially harmful websites.
In terms of backup recovery, backups can be recovered in windows environment, but they can also be recovered via bootable media (CD or USB) or via so called Acronis Startup Recovery Manager. It works similarly to BIOS setup. To run the Startup Recovery Manager one only has to hit the F11 key before system startup, and the Acronis console will boot and run.
There's also an interesting addition to TIH, that may be found useful by some users. It is called PlusPack. It is purchased and installed separately, on top of normal TIH installation. What it does, is that it allows you to create a recovery CD or USB, just as with standard installation, but the difference is, that when you choose to recover your system partition, you may indicate a path to new hardware drivers. This makes it possible to recover your image to a totally new, dissimilar hardware (bare metal restore).
As Acronis TIH 2011 can be used at home as well as small office environment, it does not provide remote access or central management console, which are available in a more business specific Acronis Backup & Recovery 10 product family.
This is just a short description of TIH capabilities. So if you're in a need of a backup software, I suggest to give Acronis TIH (trial download) a test drive, as this is definitely a robust recovery solution.
If you need any Coupon Codes for Acronis products, do contact us and check for availability.
Szymon Podrzycki