Every organization has a network in place. It's only a matter of how big or small the office network is. 
A small firm with fewer than 15 staff may have a simple wireless router that connects to the Internet service provider as well as hooking up one or two servers to the ethernet ports from the router.
Large organizations may have several wide area networks connected to one another for networking and data transfer purposes.
No matter how big or small your organization's network is, it's good to have an updated network plan/diagram documented for the following purposes:
For new support staff or external consultants to easily view the entire network architecture at a glance
Easily identify the person in charge of the entire network – usually the person who created the network diagram!
View how many switches, routers, server racks, servers, and printers are available within the organization.
Distinguish the devices which are placed within the demilitarized / secured zone (DMZ)
There are many ways to create a network diagram for your current network. One common way would be to use Microsoft Visio or Powerpoint to draw up the entire network. But if you have neither of these tools, then you can consider using Creately to assist in creating a network diagram.
Creately is an easy-to-use online diagramming application that's built for collaboration.
To create a network diagram in Creately, you will just need to click on the network diagram template which would then automatically create a diagram that is already prebuilt with some of the common mappings. See the screenshot below.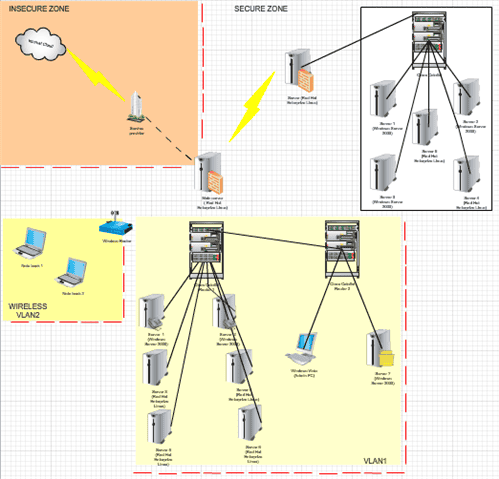 Note that the diagram above was created based on the network diagram template. It looks like my job is 50% completed. 🙂
Now to make the diagram suit your organization's network, simply add, edit or delete the items accordingly. These are some objects which you can add:
PC
Access point
Connectivity checker
Generic Server
Network Printer
Notebook
Rack
Router
Switch
Monitor
Raid Array
Server
Tape Drive
Patch Panel
Power Strip
Power Supply
As you can see the objects that you can add are quite comprehensive. Imagine if you were to draw the diagram using PowerPoint, without these objects you would need to include images or even draw it out making the diagram look messy and inconsistent.
What I really like about Creately when it comes to drawing a network diagram is the ability to define what goes in the server rack precisely. Instead of showing just a 2D image of a server rack, you can now define what sort of devices are sitting inside the rack. Neat!
If you need to create a network diagram, check out Creately's Network Diagram template today!