As a CCTV expert/engineer, whenever you're requested to provide some consultation on ways to position CCTVs in a certain environment, how would you go about doing it?
I have spoken to a couple of CCTV installers and talked to them about the possibility of securing a factory environment via CCTV video surveillance. They would request for a site visit after which they would provide a quotation/cost on what it takes to install multiple CCTVs in multiple locations.
I then asked the CCTV engineer: What can I expect from the entire CCTV installation? Any available documents for me to go through before making a decision to proceed or not?
He looked at me and said bluntly that the only way to find out is for me to pay up, and get the CCTVs installed, only then can I see the outcome of the entire video surveillance.
I was like hrrm…. there must be a way he could present some of the following prior to the actual installation:
Camera angles
Mock 3d screens
Layout for CCTV placements
Estimation of storage space and bandwidth required
Instead of proceeding with this CCTV installer who proposed the system based on his experience and gut feelings, I spoke to a few other installers and finally found one who's professional enough to provide me with the above information.
The best part, was when I asked him what software he used to generate and produce the info I asked for. He mentioned that he used
JVSG's IP Video System Design Tool
VideoCAD
The combination of both these software helps to visualize a client's requirements for video surveillance.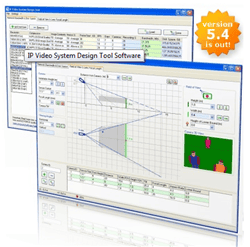 JVSG's IP Video System Design Tool allows CCTV engineers to visually see the camera's coverage area to ensure CCTVs are positioned at the right angle.
It also has the ability to make calculations of storage and bandwidth requirements to ensure the client doesn't encounter insufficient disk space problems.
Once you have all your calculations, drawings, and 3D pictures ready, they can be easily exported to Word, Excel, and Visio for documentation purposes.
VideoCAD is a tool for professional video surveillance system design modeling and measuring parameters of video images and video equipment.
With VideoCAD, even beginners can use the tool to model the entire video surveillance system as a whole.
When dealing with clients, now you can really cut down on controversial situations and instead accelerate a CCTV solution for them.
Hope these two CCTV design and modeling software helps!