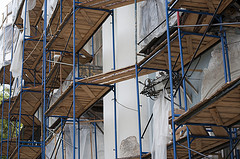 A friend whose profession is a Quantity Surveyor / Construction Cost Consultant recently asked me if I know of any free bill of quantities (BQ) software that he could use to manage costs and item quantities for his civil and building engineering projects. 
Since he is an independent consultant and doesn't officially belong to any organizations, he needed a free software to start off with before going for proprietary ones.
As a QS Enginner, his key responsibility includes:
Prepare the bill of quantities for building projects.
Perform cost control to the best possible.
Provide advise during the procurement process.
Prepare and analyze the cost of tender.
The most important task is basically to minimize costs to the fullest while still achieving the required quality and standard for a perfectly built building.
It looks like it's vital for the cost of all materials to be calculated accurately without any errors if possible.
A user friendly and reliable software will definitely come in handy especially if it helps to manage the list of building materials together with its associated costs and measurements. The ability for the BQ software to tally up all totals will definitely be useful as well.
So I did a quick search and found this software called PriMus-DCF – a windows desktop application for building professionals to easily create, modify and share price lists, estimates and bill of quantities for FREE.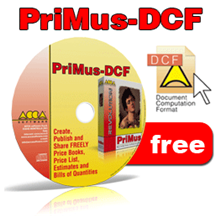 Primus-DCF can be downloaded immediately without any questions asked whatsoever.
The creator of the software, ACCA (Italian based leader in building industry software) has created the software as a gift for all to use and benefit from.
To begin using the BoQ software, you start off by creating a price list.
A BoQ price list is basically a list of unit prices which can be used effectively when developing a bill of quantities.
See an example price list generated using PriMus-DCF below: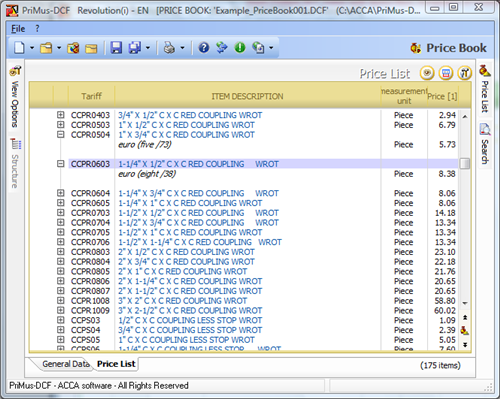 Once your Price List is there, creating a BoQ is as simple as dragging and dropping the necessary items into the BoQ.
Below is a sample Bill of Quantities created using PriMus-DCF for a campus extension project.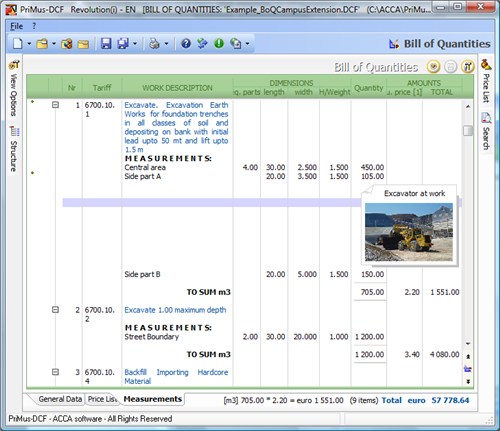 You may notice that that the default currency is in Euro and that can be easily changed to your working currency from General Data > Configuration.
Just like any other desktop applications, once you're done developing your BQ, it can be easily printed out as well as shared electronically with co-workers and clients.
I believe PriMus-DCF will not only benefit my QS friend but also many other building professionals out there thanks to ACCA.
For more details about this free bill of quantities software for building industry, check out PriMus-DCF today.
For alternative quantity surveying software, do check out:
What this video on how you can prepare your next bid faster by leveraging Revu, Bluebeam's measurement tools, VisualSearch and estimating capabilities which offers a competitive advantage for the quantity surveying industry.