In the previous post, I mentioned briefly how I needed to learn more about network monitoring and decided to give GroundWork Monitoring Enterprise Quickstart a try.
In this post, I'll walk through the steps on how I bought the GroundWork Monitor SUSE Powered VM and start up the Virtual Machine.
I started off by purchasing the Enterprise Quickstart SUSE-Powered Virtual Appliance for $59 a year.
Payment can be made via credit card or Paypal after which I received an email from GroundWork Open Source on my download details.
The VM Image is about 1.1GB in size. I encountered some trouble downloading the file in one go because of my slow Internet connection speed. The download link from this page also doesn't allow a download manager to pause and resume the download.
In within a day, the download was completed. Finally!
Unzipping the zip file, this is what I saw.
To start the image, you can either use VMWare Player or VMWare ESXi.
In case you're wondering what's the difference between both versions, VMWare Player allows you to run the virtual machine from within a host operating system while VMWare ESXi is a hypervisor that allows you to run the VM image on an empty server with just ESXi installed.
Since I don't have an empty machine to install VMWare ESXi, I ran the VM image using VMWare Player on my Vista instead.
After launching VMWare Player, click on Open a Virtual Machine and point it to the unzipped folder.
By default, you should see the .vmx file. Click on the file and open it.
The VM is now loaded into the console. It's now time to Play the virtual machine.
I did that but was shocked by this error message:
"Error while powering on: Internal error."
The error message itself doesn't provide much description. Arghh… what could go wrong?
Anyway, I spent several hours trying to find out why and eventually I found the solution.
I need to run the VMware Player as an Administrator.
To do that, simply right-click on the VMware Player and click on Run as Administrator.
This is strange. I thought I'm already logged in to my Vista OS as the administrator, why do I need to specifically run it as administrator again?
Once the VMWare Player console appears, I clicked on the Play Virtual Machine and walla.. it's now booting up. Cool!
Prior to the screen above, I also get to change the default password as well as configure the timezone.
In case you do not see the above screenshot but instead, see an error message which goes like this:
"The Virtual Appliance can not configure the network interface. Please contact support ' at' gwos.com".
Then what you need to do is to ensure that under the VMWare Virtual Machine settings, to select the Network Interface as NAT instead of Bridged (default).
Now's the time to access the portal through a web browser via https://192.168.5.128 as stated in the console.
I'm happy to see the GroundWork Monitor Enterprise Login Page after many hours trying to set it up. 🙂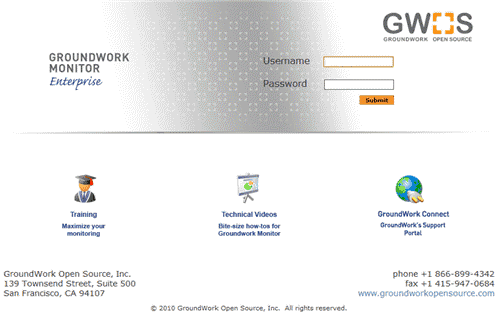 Logging in for the very first time, we're requested to enter a license key.
Once validated, you should be able to access the monitoring tool's tabs.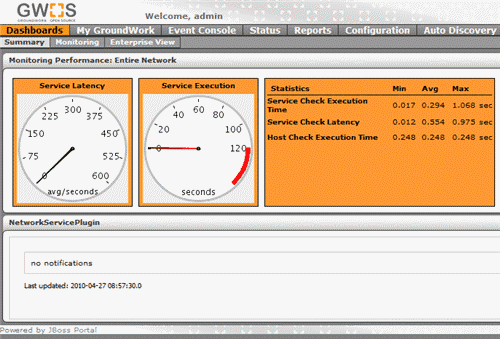 The dashboards above don't make much sense yet because I haven't configured the system.
This is when I will head on over to the getting started with GroundWork online training to learn more about each feature and how to go about configuring it to monitor my systems and network.
I guess the key objective of this post is to highlight that network monitoring doesn't have to be an expensive and time-consuming project to undertake especially if the solution is based on an open architecture.
With the right skills and knowledge, any organization from small to large enterprises can begin to monitor their systems and network via GroundWork Monitoring Enterprise Quickstart.
Hope you learn something from my experience setting up a network monitoring software.