55+ List of top open source BPM / workflow solution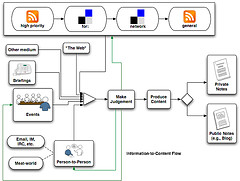 Every organization has their very own distinct business processes which differentiates them from their competitors.
Some companies have predefined processes while some have processes which are defined by the employees themselves. Imagine what would happen if each customer support representative have their own way of managing a customer. Without a proper process in place, calls from customers can go unanswered and can be transferred endlessly.
Lately, with the help of advance web based solutions, business processes and workflows can be managed through business process management (BPM) solutions. These solutions can be used to easily create applications automate processes such as:
Change management
Quality control
Customer service
Claims management
Complaint management
Procurement
There are many BPM / Workflow solutions out there. The following are five open source BPM / Workflow solutions for you to evaluate before trying the proprietary ones.
1. Intalio
Intalio is an open source business process platform built around the standards-based Eclipse STP BPMN modeler and Apache ODE BPEL engine, both originally contributed by Intalio.
Intalio Enterprise provides all the components required for the design, deployment, and management of the most complex business processes which includes
Intalio is available in several editions but what we're most interested in is Intalio's free community edition. This edition is made of two components, Intalio Designer and Intalio Server.
Intalio Designer allows one to model  the business level processes for the model to be eventually deployed to Intalio Server. Intalio Designer is the only tool currently available on the market that allows any BPMN model to be turned into fully executable BPEL processes without having to write any code.
Intalio Server is a high-performance process engine that can support the most complex business processes, deployed within mission-critical environments.
If your organization is planning to automate business processes, Intalio should be in your list of consideration.
2. ProcessMaker
ProcessMaker is an open source business process management (BPM) and workflow software designed for small and mid-sized businesses (SMBs).
ProcessMaker is a user friendly solution to manage workflow effectively and efficiently .
Business users and process experts with no programming experience can design and run workflows, increase transparency, and radically reduce paperwork,  automate processes across systems, including human resources, finance, and operations.
With ProcessMaker you can easily create workflow maps, design custom forms, extract data from external data sources and many more key features to optimize workflow management and business operations.
One key advantage of ProcessMaker is the online library which provides many process templates for you to download and begin editing. Learning curve can also be reduced since you're starting from one which is already readily built and tested. Some sample process templates include:
Credit card application
Expense report process
City district zoning request
Updated 12 April 2009: Read my initial review of ProcessMaker
3. BonitaSoft
Bonita Open Solution is an intuitive and powerful open source business process management solution which is applicable for simple to complex processes.
The Bonita Studio which meets the business process management notation standard (BPMN) is part of the Bonita Open Solution which includes the Bonita Execution Engine and Bonita User Experience.
One strong point about Bonita Open Solution is its great user experience which is quite similar to your standard email Inbox for you to easily and quickly organize your work, follow up on tasks / cases and collaborate with colleagues.
4. Activiti
Activiti is an open source BPM platform for Java based environment. It's source code is distributed under the Apache license.
Within the Activiti BPM platform are the following components namely: Activiti Engine, Activiti Modeler, Activiti Designer, Activiti Probe, Activiti Explorer and Activiti Cycle.
Unlike other open source bpm tools, Activiti is supported and developed by several companies such as SpringSource, Atos Origin, Signavio, Camunda and more.
5. UEngine
uEngine BPM is an open source BPMS that has been registered in SourceForge.net since 2003.
The uEngine BPM suite is divided into the following three key components:
uEngine BPM Foundation – with modeling tool and process engine
uEngine Process Portal – with dashboard and single sign on capabilities
uEngine BP Analyzer – OLAP based process analyzer
Besides being just a BPM suite, its uEngine BPM foundation is built along side other notable open source applications such as the Liferay Enterprise Portal, Mondrian OLAP Server, JBoss Drools BRE and Apache Axis II.
6. Cuteflow
Cuteflow, unlike Intalio and ProcessMaker, is a web based open source document circulation and workflow system.
Users are able to define "documents" which are send step by step to every station/user in a list. Imagine the scenario where a particular document is being sent to various parties for review and approval before it's classified as a final document for submission purposes.
Cuteflow helps to automate the document circulation process within your office internal environment.
All operations like starting a workflow, tracking, workflow-definition or status observation can be done within a comfortable and easy to use webinterface.
Some key features of Cuteflow includes:
Free and Open Source!
Webbased User Interface
Integration of workflow documents in e-mail message
Unlimited amount of sender, fields, slots, receiver…)
Workflows can attach data and files
Flexible user management with substitutes
————————-  End ——————————–
So there you go, some open source BPM comparison for your organization to begin automating business processes. One thing about automating a business process is to ensure that a process is already mature. Just think about it. If a process is rather new and not fully tested, it's bound to have some loopholes or problems in it. If there are real problems in an immature process, going ahead to automate it can speed up the problems. So do beware, while technology helps to speed things up, speeding up problems and loopholes can be disastrous.
Here are more BPM Tools for you to go through.


BPM Tools (essential in ITSM projects)
Tools that support the modeling and administration of People and Process: Business Process Modeling tools. These tools are indispensable in ITSM projects.
NOTE: this list is not about ITIL/ITSM tools. Please visit http://list.ly/list/Cy-itil-tools.
=== This list is created in the context of knowledge sharing, but the most rewarding discussions have always been face-to-face. For that reason we support www.ConnectingFriends.NET ==
Source: http://www.itsmportal.com
Lucidchart is an online diagramming application that supports flowcharts, BPMN, UML, ERD and many other diagram types. It also comes with real-time collaboration, seamless Visio import/export and easy Google Apps integration.

Added by Dave Grow on Oct 11, 2012

Comindware Tracker delivers all the power of traditional BPM software while ensuring much easier system setup and application flexibility and configurability. Comindware Tracker is seamlessly pre-integrated with MS Outlook and MS SharePoint as well as is available both in Cloud and on-premise deployment. Full support for mobile platforms - iPhone, Android and iPad - is enabled.

Added by Elena Haidukova on May 15, 2014

Navvia is a complete toolkit for the ITSM Program Office. You can SURVEY process maturity, automatically DESIGN and share Process Docs and also VERIFY process compliance. Navvia is Process Management Made Easy!

Added by david mainville on Mar 03, 2013

Dutch
MAVIM Rules is hét systeem voor het beschrijven en modelleren van (werk)processen en wordt ingezet voor zaken als normeringen, wet- en regelgevingen en KPI-beoordelingen. Zowel strategisch als operationeel is rules een uitermate geschikt systeem. De software is zodanig ontwikkeld om organisatiebreed te worden ingezet.

development tools support UML, SysML, BPMN, Business Rule, ERD and mind mapping. All Visual Paradigm tool can run on Windows, Linux and Mac OSX.
Supports core processes & service management (ITSM) processes.

Added by Patrick Roose on Apr 09, 2012

SYDLE SEED is a 100% web BPMS (Business Process Management System) designed for those who believe that having intelligent processes is a key factor for success of the organizations seeking for order and efficiency.

Added by Renata Carvalho on Sep 11, 2012

Whether you're capturing existing business processes, analyzing your supply chain, or monitoring business process performance, Microsoft® Visio® 2010's new tools and more intuitive interface make it easier ....=>

Bizagi Business Process Management (BPM) solutions makes modeling, executing and improving business processes easy for everyone, no matter if you are a small organization or a big corporation.

Added by Antonio Valle (G2) on Apr 27, 2011

ARIS Express is the free-of-charge business process management modeling software tool provided by IDS Scheer AG including EPC, BPMN, organisational chart and Microsoft Visio import. It is provided as a freeware download.

Added by Helge Rognlien on May 05, 2011

Dutch
ViFlow is een eenvoudig, maar compleet KAM- en procesmanagementsysteem. Het presenteert horizontale swimlane-schema's, die iedereen snel begrijpt. ViFlow combineert overzichtelijke Visio-schema's mét de ...=>

Added by Ben Bolland on May 06, 2011

Integrated solution, from requirements and business processes right through to application development Supports open industry standards (BPMN, UML, SysML, SoaML)

Added by Bertram Geck on Apr 05, 2013

Perceptive BPM is a set of software technologies that provide end-to-end visibility and control over all decision points and execution paths of an information request or transaction that typically is long-lived, involves many steps, and spans multiple applications and organizations. Simply put, Perceptive BPM provides organizational leaders with valuable insight, empowers them to make quick decisions, and most importantly, eliminates chaos and inefficiency that can impact an organization's competitive advantage. (also: Pallas Athena, Lexmark)

Sensus-methode® Procesmanagement, Dutch
Acht iconen en vijf niveaus, meer heeft u niet nodig om al uw processen te beschrijven. Die eenvoud is kenmerkend voor de Sensus-methode procesmanagement. Die eenvoud vindt u ook terug in de Sensus-software. De Sensus-software sluit naadloos aan op de Sensus-methode en is om te beginnen zeer geschikt voor het vastleggen, beheren en delen van processen. Daarnaast vormt de Sensus-software een praktisch instrument om bijvoorbeeld te certificeren, te automatiseren of om doeltreffend verbetermanagement door te voeren.

LearningGuide Solutions, Dutch)
Effectieve ondersteuning op de werkplek
LearningGuide biedt eindgebruikers een effectieve manier om de juiste kennis te verkrijgen én te behouden. Het is een performance support systeem dat medewerkers op de werkplek ondersteunt bij het toepassen van (nieuwe) procedures en desktop- of bedrijfsapplicaties.

Use ARIS platform strategy tools to align business processes with corporate adjectives. Optimize your project costing, personnel planning & Six Sigma initiatives.

Bonita Open Solution combines three solutions in one: an innovative Studio for process modeling, a powerful BPM & Workflow engine, and a breakthrough user interface.

Added by Jérémie Tarot on Sep 12, 2011

Serena Business Manager is the process management platform of choice for companies that want to rapidly create and adapt process-based applications that improve enterprise agility, productivity, and accountability.

Added by Алексей Ионин on Oct 21, 2011

Dutch & German.
Procesmanagement verschaft inzicht in uw organisatieprocessen. iProcess is de softwaretool voor procesmanagement waarmee u dat inzicht doeltreffend creëert.
Taken, verantwoordelijkheden en bevoegdheden, ze kunnen met behulp van deze webbased softwaretool ....

Salamander's MooD technology is the leading software platform for Enterprise Performance & IT Governance. Salamander's MooDenables an architecture-driven business solution that support decision effectiveness and operational...=>

Added by Stephen Hamilton on Apr 28, 2011

The SAP Solution Manager application management solution facilitates technical support for distributed systems – with functionality that covers all key aspects of solution deployment, operation, and continuous improvement. A ...=>

Added by Mark Topper on Apr 28, 2011

The core task of ADONIS is to continually improve Process and Business Performance in organisations by building an integrated management system and providing transparent information for decision making. ADONIS supports you in ...=>

Added by Victor Mena on May 05, 2011

The QualiWare product line covers three main products, based on the core modeling suite QualiWare Lifecycle Manager: QEA, QEA and QBM.

Added by Helge Rognlien on May 05, 2011

Force.com's Visual Process Manager allows you to automate workflows, business rules and easily manage your complex business processes.

ProcessMaker is open source business process management software and workflow software. ProcessMaker workflow management software allows public and private organizations to automate document intensive,...=>

Added by Jérémie Tarot on Sep 12, 2011

uEngine is an open source BPMS. It was registered in SourceForge.net in 2003, and becomes one of the successful open source BPM projects with matured architecture and references in diverse industries....=>

Added by Jérémie Tarot on Sep 12, 2011
Thanks
for reading! Read more articles by
Bob Lee
and also find out
how to build a website in minutes.
Related software