Let's assume you already have various backup jobs set up on your workstation. You have your documents, e-mails, registry and settings backed up on a regular basis, and you create drive images from time to time to be able to restore your computer in case of a system crash. So you probably think that you're safe with it, that you're ready for a 'disaster'. But what about an office or home theft, or a fire? People usually don't think about these kind of situations, although they could happen to anyone, couldn't they? photo credit: gruntzooki
Disaster recovery is an important factor for many businesses these days. Having a backup solution in place is a must to maintain business continuity. Backing up data to a different location adds an extra layer of security. Companies that have branches in different locations, usually have one centralized data server that is used to transfer data from all offices, but such solution may be a little bit tricky for firms that operate in only one location. The same problem applies to home users, who don't usually think about securing information that way.
Recently we have reviewed Acronis True Image Home 2011 just to remind you, is a great backup utility for home as well as office users. Today, I wanted to write a few words on a service offered by Acronis, the Online Backup.
Acronis Online Backup is a file protection solution which can be used to protect valuable information in a simple, automated and secure way online. Backing up your data to Acronis' servers allows you to access your files remotely, so not only does it enhance your security, but also adds additional functionality for those who need to access their files outside the place they are originally stored.
It provides the fastest file restores and it can recover the entire PC in minutes, including the operating system. So you can use Acronis Online Backup to give you peace of mind in the event of a theft or any other home or office disaster by securing important files in a remote, secure location.
Acronis uses industry-leading data encryption for your privacy and protection. Acronis Online Backup enables you to protect up to five PCs and laptops with the same account.
So let's see how it works.
If you have already bought TIH2011 you probably have the Online Backup already installed on your workstation. If you haven't than it can be downloaded here,  as a standalone application. To test this service, you will have to register your product on Acronis website. This will allow you to activate 1 month subscription to 2GB space account, which can be later on extended to a 250GB account for a $4,95/month or $49.95/year fee.
Having installed the utility and registered the account, we can start logging into the online backup server.
After logging in, the job is pretty simple. In the first step, you are asked to choose the name of the computer that is being backed up, in case you wanted to back up files from multiple workstations. In step two, you will need to browse your disk in order to select files, folders, partitions or drives for backup and create a schedule.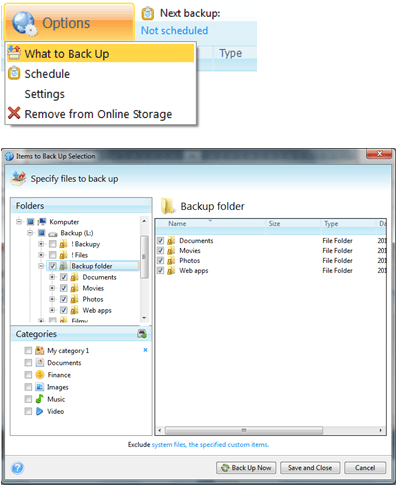 Having selected files and folders, simply click on Back Up Now to start the backup job.
We've tested the backup speed by backing up a total of 756 MB of data. Upload took a total of 2 hours with an average upload speed of 0.9 to 1.2 Mbit/s. With an average download speed of 14 Mbits/s it took 12 minutes to restore the whole folder back to our hard drive.  Please note that the upload and download speed was limited to our bandwith (D: 15 Mbit/s, U: 1Mbit/s), but as you can see it was utilized to the maximum capacity.
Online backup offers various schedule options, you can choose from daily, weekly and monthly backup settings and choose automatic cleanup options to make sure there's enough space left for future backup tasks.
Acronis lets you browse browse backup history. It's as simple as selecting tabs on a timeline bar. As mentioned before, apart from having your data secured in a different location, online backup can also be used to access files from any location where you have access to the internet. All in all, the online backup software is very simple and intuitive, it takes only a couple of minutes to select backup locations, configure backup tasks, schedule and storage cleanup. With only couple bucks a month, you can be certain that your valuable documents, photos and any other files are kept safe and you can access them anywhere and anytime, even if they are completely lost in place where you originally stored them.
Szymon Podrzycki