As a network administrator, you may be held responsible for all data backup purposes.
It could be data from a file server, from a web server, and from workstations such as PCs and notebooks.
Most users would do their own backups into external hard disks. But what if one day they forgot to back up their files and a lot of valuable documents are gone?
There must be an automated way to back up data from all possible sources reliably to an external backup location.
What I mean by all possible sources includes:
MS Exchange Server
MS SQL Server
Oracle
IBM DB2
IBM Lotus Domino / Notes
ODBC supported database backup
My Documents
Website
An entire disk image
Common folders with documents
And external backup locations include:
Network drives
Online backup service
CD, DVD, HD DVD discs
Remote FTP / SFTP servers
HDD, External HDD, Firewire, USB drives
Without a proper backup solution which helps to automate backup up all the possible sources above, trying to perform manual backups can be quite a tedious and time consuming task.
Today's post will introduce a client-server backup solution for enterprise networks called Handy Backup Server by Novosoft.
Handy Backup Server is an enterprise backup solution for an organization using Windows 2008/2003 Server and Windows 7/Vista/XP/2000.
Unlike many backup software which focuses on backing up a single workstation, Handy Backup Server focuses on automating the process of backing up multiple workstations and servers.
You start of by installing Handy Backup Server on a machine with administrative access to all network computers that you want to back up.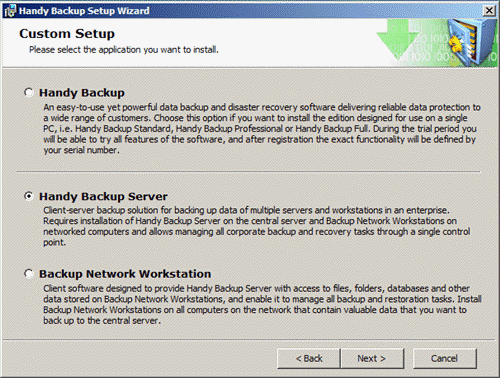 Once that's done, you'll need to set up backup network workstations by installing a client software on workstations allowing Handy Backup Server to access data.
The best part is the user doesn't even need to know or feel the effect of the backup taking place since it is running as a background Windows service.
It's not like it will go tell the user, hey… stop all your work now as I need to backup your data!
The following is the backup network architecture for Handy Backup Server:
Everything else is all about specifying and identifying what data to back up and to where.
I really like its ability to back up to an FTP server. My vision of a true backup solution is always to back up all data to a remote location.
Some administrator stores their backups into tapes and external hard disks and leaves them lying around near the servers. It is best to keep these backups elsewhere in case some disaster strikes which wipes out an entire building.
If you do not have a network of computers but just want to back up your single computer data easily, check out the other product called Handy Backup.
For all your enterprise backup needs, download Handy Server Backup today!
And guess what,  there's a free giveaway!
To the first person who writes a comment on how they plan to use Handy Server Backup to replace their routine task of manually backing up data, he/she will get one Handy Server Backup license key ($599).